Rise in airport drop-off and pick-up charges 'eye-watering'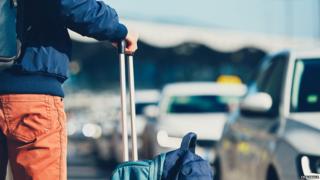 Charges for picking up and dropping off passengers at some of the UK's busiest airports have risen by as much as 100% over the past year, a new study claims.
RAC research found eight of the top 20 UK airports had increased pick-up fees, while five airports had raised charges for drivers dropping passengers off.
The RAC described tariffs as high as £3.50 for 10 minutes as "eye-watering".
But the Airport Operators Association said fees were "clearly flagged" and were channelled into site facilities.
Seven airports, including London's Heathrow and Gatwick, continue to offer free drop-off parking.
'Bone of contention'
London Stansted is currently the most expensive airport in the UK to drop passengers at the terminal, the RAC said - with prices jumping by 50p to £3.50 for 10 minutes in the last year.
Liverpool's John Lennon airport, the second most expensive, raised drop-off fees by 50% - from £2 for 20 minutes to £3 for 20 minutes, while Birmingham doubled the cost, raising prices from £1 to £2 for 10 minutes.
Glasgow airport, where it was previously free to drop off passengers, introduced a charge of £2 for 10 minutes in April. Similarly, Southampton has introduced a £1 fee for 10 minutes.
RAC spokesman Simon Williams said: "The eye-watering drop-off and pick-up costs at some airports is likely to be viewed by drivers as another way of making money out of them - particularly in instances where public transport to and from the airport simply isn't a viable option."
"Drop-off charges are the biggest bone of contention, as for many they appear severe when they are simply pulling up for less than five minutes and often don't even get out of the car themselves."
'Costly' good deeds
Rising pick-up charges are also exposed by the research.
Motorists collecting family or friends from London Luton are charged the most in the UK at £7 for 40 minutes, according to the report - although there was no increase in charges for 2017.
London Stansted was again among the most expensive airports - this time for collection - raising charges by 50p to £5 for 30 minutes, £1.50 more expensive than London Gatwick for the same service, which increased changes by 30p.
London City airport raised fees by £1, to £3.50 for a 10-minute stop, while Southampton and Cardiff airports both introduced pick up charges of £1 for 10 minutes, having previously charged nothing for the first 10 or 20 minutes respectively.
Belfast City and Liverpool John Lennon continue to offer free short-stay parking for passenger collection.
Mr Williams said airport charges for short-stay parking had turned "a good deed [into] a costly experience".
But a spokesman for the Airport Operators Association defended the charges, saying the income earned was channelled into airport facilities and allowed airports "to keep charges to airlines low, benefiting travellers through lower air fares".
He cited congestion and environmental impact among the reasons for the range of charges across the regions.
The spokesman said charges were clearly flagged up and passengers had a "high level of awareness of the different ways they can choose to get to the airport, ranging from public transport to travelling by car".