Does Cambridge University need to widen a 'whitewashed' reading list?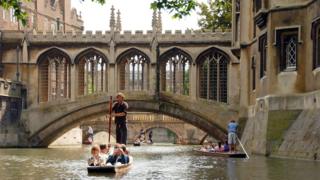 A group of 100 Cambridge students have called for the university to include more black and ethnic minority writers in its English Literature curriculum, leading to a row over race. But the university has condemned the backlash and says it supports debate over its reading list.
The literary row started with a letter written in June by the students to the university's English faculty, asking it to "decolonise" its curriculum by including more BME writers.
The letter, mainly signed by white students, stated: "This is not a call for the exclusion of white men from reading lists... it is a call to recentre the lives of other marginalised writers."
One of the students, Lola Olufemi, women's officer for Cambridge University's student union, then explained the position in an article for the university's student newspaper Varsity. She wrote that it was "simply not enough" for the university to offer one optional course to read post-colonial BME texts at the end of a three year degree.
Her picture was splashed on the front page of the Daily Telegraph on Wednesday under the headline: "Student forces Cambridge to drop white authors". The paper then faced criticism for "twisting the facts" and "demonising" Ms Olufemi.
The university has responded by saying it supports "robust academic debate" and that "very early" academic discussions had already been held on this issue.
But for now it said, there "has been no decision to alter the way English is taught at the University of Cambridge".
So what do students studying English Literature at Cambridge read and why?
The course outline advises students they will be studying a full range of "English literature from the Middle Ages to the present day".
Across the three years, it lists four compulsory papers that must be taken by all students:
English Literature and its Contexts 1300-1550
Shakespeare
Practical Criticism
Tragedy
There are also more than 20 optional papers - "which change regularly", with lecturers providing suggested reading lists and students making decisions on what books to study based on that guidance.
But some students say all too often they are steered towards white, male writers.
Issues of Britishness
One of the lecturers is Dr Priyamvada Gopal, who teaches postcolonial literature. She says she has noticed "more assertiveness" from students about what kinds of issues they want to explore.
Because many have not learned about the British Empire while at school, she says, this makes them keen to study books that examine the issues of Britishness or Englishness, and "how that relates to questions of race, immigration and even class".
So what should be on the agenda? Dr Gopal has five books she suggests are worthy of inclusion:
Dr Gopal's top five BME reads
Recommended reading from Dr Priyamvada Gopal, Reader in Anglophone Literatures and Fellow at Churchill College, Cambridge:
The Interesting Narrative of the Life of Olaudah Equiano by Olaudah Equiano
Olaudah Equiano was a black African writer whose experiences as a slave prompted him to become involved in Britain's abolition movement. His autobiography was first published in 1789 and was immensely popular.
The Lonely Londoners by Sam Selvon
The son of an Indian father and a Scottish-Indian mother, Sam Selvon moved to England in 1950 after serving in the Trinidadian navy. The Lonely Londoners is perhaps his best-known and commercially most successful novel and was his first to address the migrant experience.
The Black Jacobins by CLR James
Caribbean intellectual and political activist Cyril Lionel Robert James moved to England from Trinidad in 1932. Six years later he published the historical account, The Black Jacobins, his seminal work on the Haitian slave revolt.
The Emperor's Babe by Bernardine Evaristo
Born in London to an English mother and Nigerian father, Bernardine Evaristo is an award-winning author and current professor of creative writing at Brunel University London. Published in 2001, The Emperor's Babe is a mash-up of culture and history, set in Roman London. The Times crowned it the "Book of the Decade".
Feminist Fables by Suniti Namjoshi
Indian-born Suniti Namjoshi's first book of fiction, Feminist Fables, was published in 1981. An important figure in contemporary Indian literature in English, she is known for exploring issues of gender, sexual and cultural identity.
'Entire degree without BME'
Mariam Ansar, who helped draft the open letter, said it came as a "result of years of frustration felt as an undergraduate, as a student of colour studying English at Cambridge".
The 22-year-old from Bradford graduated this summer and said: "This discussion had been happening in non-academic circles for a long time."
Fellow graduate Rebecca Hirst, 21, from Chester, said: "At the moment a system exists at Cambridge whereby a student could complete an entire literature degree without studying the writings of a person of colour or the context of slavery and colonialism in any depth."
'Disheartening and alienating'
Cambridge student Lizzie Bowes, 19, from Peterborough, criticised those who are "too quick" to fall back on the argument that there are no BME authors of the same calibre as William Shakespeare, Geoffrey Chaucer or John Milton.
"As a BME student myself, being constantly told that BME authors are excluded from the canon and the curriculum simply because they're 'not good enough' is hugely disheartening and alienating," she said.
Miss Bowes said adding to the list of authors would help students "challenge and interrogate the dominant conceptions of Englishness".
Stella Swain, in her second year at Cambridge, pointed to the "disturbing lack" of non-white authors on the course and said it made the English Literature degree appear "archaic".
'Schools whitewash too'
Cambridge student Finley Kidd, 19, from Norwich, who signed the letter, said the problems with the English literature curriculum begins well before university level.
She said: "Britain's history of colonialism, empire, and institutional racism is one such context that has been so fundamental in shaping our literature that we can make no excuses for ignoring it.
"My high school English curriculum was similarly whitewashed. I have had some incredible lecturers and supervisors during my degree who have encouraged my reading of authors such as Chinua Achebe and Ngugi wa Thiong'o, but the majority of academics I've come across don't seem to take BME writers into consideration.
"The onus should not be on students to reach beyond reading lists - many may not realise they are even allowed [to do so] - but on academics to diversify their reading lists."