People-smuggling raids lead to 11 UK arrests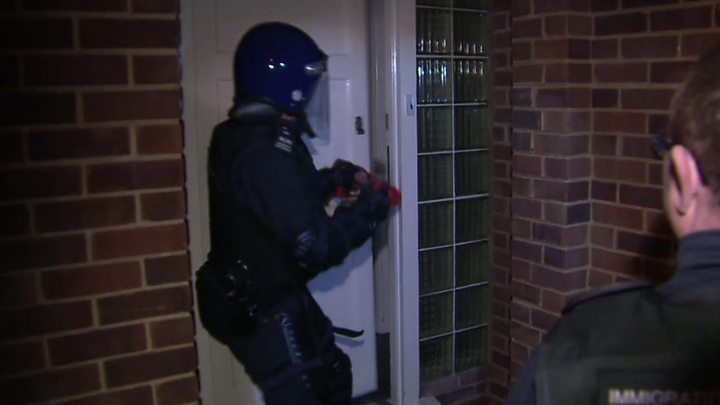 Immigration officers have arrested 11 people in the UK after overnight raids, as part of a Europe-wide investigation into people smuggling.
Those arrested were detained in London, Birmingham and Gateshead.
They are alleged to be part of an organised crime gang that used vehicles with secret compartments to transport people to the UK.
A further 15 people were arrested in Bulgaria and Belgium during raids at the same time.
Some 200 officers took part in the operation, which was led by the Home Office and codenamed Halifax.
People being smuggled are thought to have been mainly from Afghanistan along with Pakistan and Vietnam.
The gang allegedly used specially-adapted vans and trucks to travel across Europe into Britain.
Those being held are:
seven people in London, two in Birmingham and two in Gateshead on suspicion of assisting illegal immigration
one in London over immigration offences
and seven people detained in Bulgaria and eight in Belgium for allegedly assisting illegal immigration
Director of the Criminal and Financial Investigation Steve Dann said the network had made a "systematic attempt to evade the UK's immigration controls".
"People smuggling is a cruel and dangerous trade in which often vulnerable individuals are treated as commodities.
"Many are passed into the hands of other crime gangs who would seek to exploit them for modern slavery purposes - including labour exploitation and the illicit sex trade."