Man accused of 'neo-Nazi' terror plot to kill MP Rosie Cooper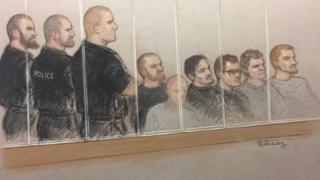 An alleged neo-Nazi has appeared in court accused of plotting to murder Labour MP Rosie Cooper with a machete.
The 22-year-old, who cannot be named for legal reasons, is charged with intending to commit acts of terrorism, and threats to kill a policewoman.
Christopher Lythgoe, 31, is charged with encouraging him to commit murder.
They are among six men who appeared at Westminster Magistrates' Court, all of whom are accused of belonging to the banned far-right group National Action.
Lawyers for all six men indicated that they would plead not guilty.
The men, who each face one charge of being members of a proscribed organisation, are:
Christopher Lythgoe, 31, of Warrington, Cheshire
A 22-year-old man, of Lancashire
Garron Helm, 24, of Seaforth, Merseyside
Matthew Hankinson, 23, of Newton-le-Willows, Merseyside
Andrew Clarke, 33, of Warrington
Michael Trubini, 35, of Warrington
The 22-year-old man is alleged to have bought a Gladius Machete between 5 June and 3 July, for the purposes of murdering West Lancashire MP Ms Cooper.
Mr Lythgoe, who is accused of encouraging him to commit murder, is alleged to be a regional leader of National Action, which became the first far-right group to be banned in the UK last year.
All of the men were remanded in custody until a pre-trial hearing takes place at the Old Bailey on 3 November.
The charges follow a number of raids across England and Wales by counter-terrorism officers as part of a national investigation into National Action.
In a statement on Thursday, released after the men were charged, Ms Cooper said: "I would like to thank everyone involved in this case, especially the counter-terrorism police, for keeping me, my staff and the public safe."
Being a member of a banned group or inviting support for it is a criminal offence carrying a sentence of up to 10 years' imprisonment.