Hurricane Irma: Aid rule change to be considered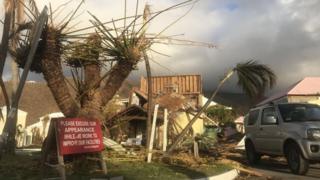 British overseas territories damaged by hurricanes could access aid in future under new plans, the BBC has learned.
Some small Caribbean islands that were hit by Hurricane Irma last month were deemed too wealthy to qualify for aid.
But on Monday the body that sets international aid rules will consider allowing countries to return to the list of poorer, eligible recipients.
Middle-income countries cannot currently re-register for aid if they suffer an unexpected economic decline.
Another option that will be discussed is an "emergency waiver".
This would allow a country to be included on the list of eligible official development assistance (ODA) recipients for a short period after a crisis.
But this proposal is expected to face opposition from some members of the the Organisation for Economic Cooperation and Development's (OECD) development assistance committee when it meets on Monday in Paris.
Last month, the British overseas territories of Anguilla, Turks and Caicos and the British Virgin Islands were badly damaged by Hurricane Irma.
But there was controversy after the BBC revealed that Britain's £13bn aid budget could not be used to help repair the islands.
All three had gross national incomes higher than the benchmark for countries to be eligible for ODA.
'High level meeting'
International Development Secretary Priti Patel, who will attend Monday's meeting, has been pushing for the international rules to be changed to reflect the vulnerabilities of small island states.
She has discussed the options with Angel Gurria, the secretary general of the OECD, and this week she told MPs that he had been "broadly supportive" of her ideas.
The development assistance committee is made up of 30 countries, and changes to the rules have to be agreed by consensus.
OECD sources suggested there would be opposition from some countries who feared that a special case was being made for British overseas territories.
Others fear that money going to small islands could divert ODA funds from tackling long term poverty in developing countries.
So officials expect the most likely outcome from Monday's "high level meeting" of the committee is for the members to support in principle the idea of creating a new mechanism for countries to return to the ODA list, while also asking for more information about how any rule changes might work.
"I doubt it will be done in one day," said one source.
"The decision will probably be to dig a little deeper and look at the conditions and the research."
Key questions would be:
What criteria would be used to decide whether or not a country should be eligible for ODA again?
How could they ensure that any rule change helps all countries and not just British overseas territories?
And how could the rules ensure that ODA is not unduly diverted away from poverty reduction?
The OECD is understood to be looking at the way other international organisations have made their rules more flexible to deal with emergencies.
These include how the World Bank decides which countries are eligible for International Development Association assistance, and how the World Trade Organization waives intellectual property rights to allow poor countries access to medicine licences when there is a health need.
Aid list
At the moment countries eligible for ODA must have a gross national income of less than $12,235 per capita.
That currently includes Antigua and Barbuda, Dominican Republic, Haiti and Cuba.
But Anguilla and St Kitts & Nevis were taken off the ODA list in 2014, the British Virgin Islands in 2000, and the Turks and Caicos in 2008.
Under the new proposal, there would now be a process whereby these countries could be restored to the ODA list.