How ex-partners avoid paying child maintenance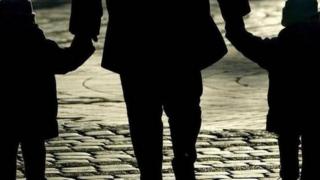 After the government said it would close a legal loophole that allowed "a small minority" to avoid making child maintenance payments, we asked for your experiences.
The loophole identified by the Department for Work and Pensions (DWP) relates to a rule that says money can be taken only from bank accounts held solely by those responsible for paying - allowing people with joint accounts to avoid paying.
While the law change has been welcomed, many readers have got in touch about other ways the system is being exploited.
Examples include:
Creating complex financial arrangements that are hard to keep track of due to self-employment
Putting a businesses in another name to distort personal wealth
Opening a limited company to make money unavailable
Reopening a case with the CMS after a legal agreement was already reached in court
Julie, from Northern Ireland, said her problems arose from her ex-husband's self-employment status.
She said the CMS is unable to keep up with complicated financial arrangements or people who move their money around.
"The CMS is set up for people who are honest and open about their affairs," she said.
"There are so many loopholes [and] the CMS doesn't have the power to enforce anything when it comes to those who are self-employed.
"I had a deduction of earnings order but they can't stop money being moved around in different accounts, cash being taken out and hidden.
"If someone who is self-employed says they need cash for the business or to pay wages, that takes precedence."
Julie added that if there were arrears and one or two small payments were made, the CMS moved on.
"They can make one or two small payments and then you're back at square one and you have to go through the whole process again.
"It gives the ex-partner power and control over the family and I hate it. It is the children that suffer in the end."
Parents use the government-run Child Maintenance Service (CMS) if they are unable to come to a family-based arrangement.
Fiona, who lives in Scotland, had been receiving regular maintenance for 12 years from her ex-husband based on a court agreement, but that changed last year.
After becoming unemployed, her ex-husband went to the CMS and asked for his case to be reopened and she hasn't received anything since.
"I previously had a court-based agreement with my ex-husband and he never defaulted once."
She said there was no need to reopen the case as the original agreement made provision for "a drastic change in circumstances".
"But now it is with the CMS I can no longer take him to court for unpaid maintenance. I think this is a much bigger loophole," she added.
She has not been told why he "was allowed to open a case when we had a legally binding agreement in place".
Hidden income
Dalia Ben-Galim, policy director at Gingerbread - a charity helping single parents - recognised these additional loopholes.
"What we find is often around the relationship between those who do self-assessment tax - for example, self-employed, those who have income from other sources - rental income or as a result of dividends or as a company director," she said.
"It's very hard at the moment for the DWP, for the child maintenance service, to connect with HMRC to understand that additional income."
Samantha, from Gloucestershire, has three children with her ex-husband, who has now remarried.
She says he has put his businesses, house and bank accounts into his new wife's and brother's names, to avoid paying child maintenance.
"It's an absolute joke and I feel that the Child Support Agency (CSA) are completely useless. He made the children, he should pay to support them," she said.
The government is in the process of moving CSA cases to the new CMS.
A parent from Southampton, who wished to remain anonymous, said: "My ex-partner has not paid a penny for over three years. He opened a limited company solely to avoid paying his maintenance.
"A liability order was granted in February 2017 for payments up to September 2016 but they are only just taking bailiff action now.
"They never call back when they say they are going to. It's constant chasing on my part. My children are now owed well over £5,000.
"There are too many loopholes."
The DWP has said only a small minority of parents try to cheat their way out of paying towards their children.
But Gingerbread would like to see the government do more to close other loopholes.
It wants the DWP and CMS to "routinely count all income held by HMRC - especially in making the CMS aware of other income, for example from those who are self-employed or have rental income".