Child poverty will 'increase due to benefit cuts'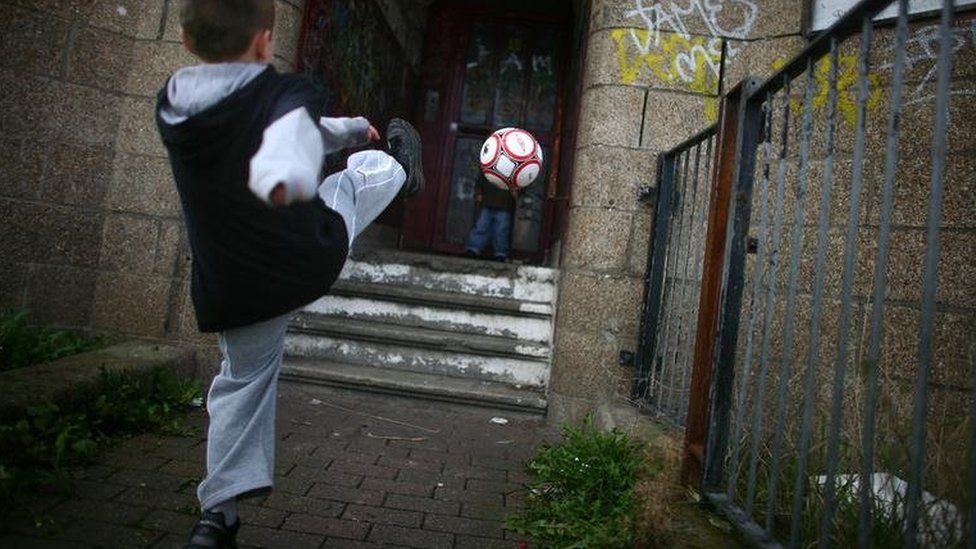 An extra 400,000 children will be in "absolute poverty" within six years due to benefit cuts, a think tank has said.
North-east England and the East Midlands, as well as Wales and Northern Ireland will be hit hardest, the Institute for Fiscal Studies suggested.
The study estimated that some 7.5 million low income households will have their benefit entitlements cut by more than £500 a year in real terms.
The government said it was committed to supporting families.
It said it was "helping families keep more of what they earn" by cutting taxes and increasing the National Living Wage.
However, it has also frozen many working-age benefits and capped payments.
The report predicted that child poverty levels will increase by 4% nationally between 2015/16 to 2021/22.
Benefit changes - including the roll-out of universal credit - will account for three-quarters of the total 530,000 surge in child poverty levels over the given period, the research added.
The government has defined those in "absolute poverty" people whose income is less than 60% of what the UK's median average was in 2010/11.
For a couple with two children in 2017/18, that would be £345 a week.
That figure includes benefits and is after housing costs have been deducted.
The report - funded by independent charity the Joseph Rowntree Foundation - predicted absolute poverty (adult and child) across the UK will remain roughly unchanged between 2015/16 to 2021/22.
But the IFS said without the planned benefit changes, absolute poverty rates would have declined.
"If the government sticks to planned benefit cuts, it should not be surprised if, according to the official measure, absolute child poverty rises," said Tom Waters, of the IFS.
"The larger projected rises occur in areas where families with children are more reliant on benefits than earnings for their income, and where more families are likely to be adversely affected by the new two child limit on means-tested benefits."
The study found some low-income families will see receive £2,500 less in benefits due to the two-child limit.
A government spokesman pointed out that there are 200,000 fewer children living in poverty than in 2010 and that the north-east of England has "near-record levels of employment". Unemployment rate in Wales "is the lowest on record", the spokesman added.
But Campbell Robb, chief executive at the Joseph Rowntree Foundation, said the figures show the UK's record of reducing child poverty "is at risk of unravelling".
The foundation has called on the government to lift the freeze on benefits.
Liberal Democrat work and pensions spokesman Stephen Lloyd said the figures "hammer home" the dangers of "cruel and senseless Conservative policies".