Bell ringers to mark 100 years since the end of First World War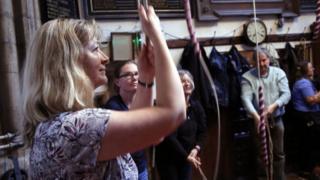 Some 1,400 bell ringers are to be recruited in 2018 to mark 100 years since World War One ended.
They will represent the 1,400 bell ringers who died in the conflict.
Bells in churches and cathedrals will ring out on 11 November next year and Big Ben will also strike to mark the centenary of Armistice Day.
Church bells were rung in celebration when armistice was declared in 1918, after having been restricted during the four-year war.
Culture Secretary Karen Bradley said: "On November 11, 1918, the ringing of church bells erupted spontaneously across the country, as an outpouring of relief that four years of war had come to an end.
"I am pleased that to honour that moment."
Communities Secretary Sajid Javid said it was a priority to "keep the history of the First World War alive for generations to come".
On Saturday, events were held around the UK to mark the 99th anniversary of Armistice Day with Big Ben chiming for the first time since August.
The centenaries of women's service in the regular Armed Forces, the World War One battle of Passchendaele, the creation of the Commonwealth War Graves Commission and the 100th birthday of Dame Vera Lynn are also being marked this year.