Pet passport: Can I take my pet to the EU after Brexit?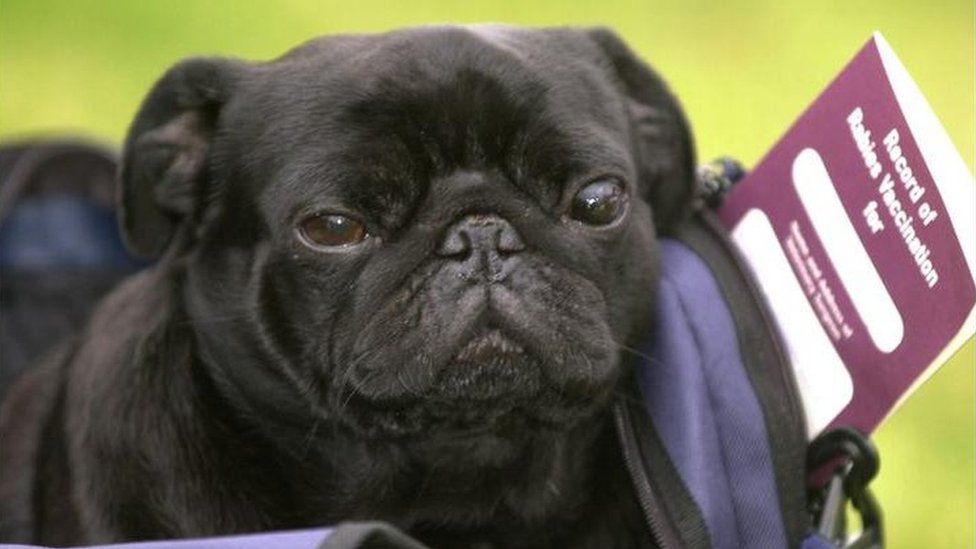 UK pet owners used to be free to to take their dog or cat into EU countries and back again, provided they had a pet passport and were microchipped.
But new rules have come into force since the UK left the European Union, and the situation is no longer so simple.
Can I still take my pet to the EU?
You are still be able to travel with your pet dog, cat or even ferret from England, Scotland and Wales to the EU, but you now have to follow different rules.
On 1 January 2021, the UK became an EU "part two listed" country.
This means pets from England, Scotland and Wales can travel within the EU's borders as long as owners obtain an animal health certificate (AHC) first.
The AHC confirms that your pet is microchipped and vaccinated against rabies.
The document is valid for four months but only covers a single trip into the EU, onward travel within the EU and re-entry to Great Britain.
The certificate is issued by your vet, and is likely to cost around £100 - £150.
For entry into Ireland, Finland, Malta and Norway, pet dogs must also be treated against a type of tapeworm called Echinococcus multilocularis, one to five days before arrival.
When travelling with your pet, you must enter the EU through a designated travellers' point of entry, where your paperwork will be checked. These are listed on the EU website.
These rules apply to guide dogs as well.
What about Northern Ireland?
If you want to take your pet from England, Scotland or Wales to Northern Ireland, you must also obtain an AHC, as if you were going on holiday to the EU.
Pet dogs must also be treated against the Echinococcus multilocularis tapeworm before entering Northern Ireland, one to five days before arrival.
The AHC must be presented at one of the designated travellers' points of entry at Belfast Port, Larne Port, Belfast International Airport, Belfast City Airport or City of Derry Airport.
However, no routine pet travel checks for travellers from GB to NI are currently taking place, as they have been delayed until at least 1 October 2021.
Northern Ireland's minister for agriculture, environment and rural affairs announced the delay in June, "to allow a further period for the ongoing UKG/EU discussions".
UK citizens living in the EU
If you are a UK citizen who lives in the EU and has a pet passport issued by an EU member state, you will be able to use it to bring your pet to the UK.
You can also use the EU-issued pet passport to return to the EU as well.
If you are a UK citizen who lives in the EU and have a UK-issued pet passport, the government website recommends speaking to your vet to make sure you are following the rules.
Related Internet Links
The BBC is not responsible for the content of external sites.