Modern cookery is 'poncey' and 'chefy' - Delia Smith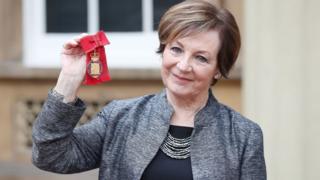 Modern cookery has become "poncey" and too "chefy", celebrity cook and TV presenter Delia Smith has said.
Speaking after she was made a member of the Order of the Companions of Honour at Buckingham Palace, Smith said she viewed the current trend of "theatre on a plate" with distaste.
"If I get one more plate put in front of me with six dots of sauce on it, I will go mad," she added.
The 76-year-old said she was "deeply, deeply honoured" to receive her award.
"Over the years I had such a wonderful response from people - in a way their response to what I was trying to do was what spurred me on do it," she said.
"I think it [the award] belongs to them as well."
Focus on flavour
Speaking afterwards, Smith said: "The joy, years ago, of going to a really special restaurant and having a really special meal, has gone.
"It is very hard to find one that isn't trying to be theatre on a plate."
She added: "I don't like it at all."
She said she believed the focus of cooking should be on the flavours and ingredients - not the appearance of the food.
"Cooking has become very poncey, very chefy," she added.
Smith said she believed the quality of food was also suffering through mass production.
"Now people just want to tear out the breasts of chickens and ducks, they don't want the rest," she added.