Guide dogs: Coping with retirement and death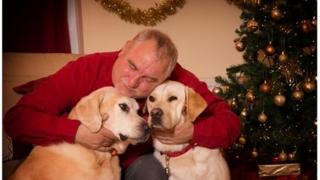 For many visually impaired people, guide dogs are a vital lifeline, bringing mobility and independence. But when a dog retires or dies the impact can be huge - as "heartbroken" politician David Blunkett revealed, following the death of his guide dog Cosby.
"It's a wrench to say goodbye," says John Welsman, who is currently guided by seven-year-old retriever Breck.
"The dog becomes part of you, and also becomes a much wider part of your family."
The 54-year-old's former guide dog, Dalton, retired because of old age, while another, Sorell, died suddenly after rupturing his spleen.
"It's a difficult process leaving a dog behind," Mr Welsman says.
"You build up a very strong bond being with it 24/7 - the dog is not only your mobility aid, it is your companion and communication aid."
There are about 5,000 guide dog owners in the UK, says the charity Guide Dogs, which breeds about 1,300 puppies each year.
A guide dog's average working life is six to seven years and they are normally retired at about 10 or 11 years old, depending on their health and the amount of work they need to do.
The charity increases the monitoring of dogs aged eight and above, checking their health and watching for reduced willingness to carry out their guiding role.
A retired guide dog can stay with its owner, as long as someone else can take responsibility, but a new home can also be nominated.
Beyond this, the dog is offered to those people who had been involved in its initial training and development, before going through the charity's re-housing scheme. The owner is then put on a priority list for a new dog.
Mr Welsman, from Somerset, says he has been "fortunate" to have family members and colleagues take on his retired dogs, so he can remain in contact.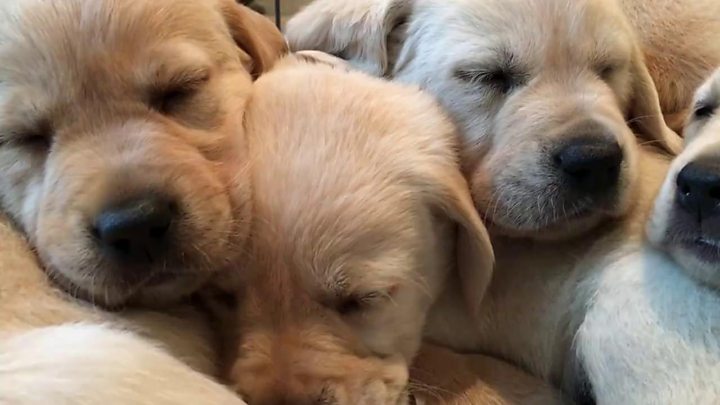 Steve Cook, 52, also found it comforting to have three of his retired dogs go to his parents.
This for him meant the loss was not as great "because I knew where they were".
But it took longer for his last dog, Shep, to be re-housed.
"It was much harder because he wasn't so close by," he says. "I did miss him greatly."
After Shep, Steve waited a year for his new dog.
"It wasn't ideal, I had to undergo white cane training," Mr Cook says.
Fortunately, he now has two-year-old Labrador Honey, who he calls his "little fast machine".
'Job for life'
For every dog owner, the emotional challenge of re-housing their dog is topped only by its death.
"As an owner it's always there, knowledge that you say goodbye twice - one when they retire, and again when they die," says Dave Kent, who has had guide dogs for 30 years.
The 57-year-old, from London, tries to stay in contact with his re-homed dogs.
The family who adopted his former dog, Ruben, allowed the dog to die in his arms after it contracted cancer.
"There was an ocean of tears, but it gave me closure," Mr Kent says.
He also formed an incredibly close bond with his former guide dog, Quince, and the pair starred in a national television advert together.
Now retired, 12-year-old Quince was adopted by Mr Kent's former support worker Melanie Kemps, who says he does what he wants and is "very happy".
For those who take on retired dogs, Guide Dogs help to cover the costs of pre-existing medical conditions, such as arthritis.
Ms Kemps says re-homed guide dogs can be "perfect" for families because of their temperament.
This is most evident in Quince when dealing with his guiding successor to Mr Kent, four-year-old Chad.
"It's a special relationship between the pair," she says, adding that Chad looks up to Quince and learns from him.
"For Quince, it's a job for life."
If you are finding it difficult to cope with the death of a pet and need someone to talk to, the charity Blue Cross provides a bereavement support telephone service. It is available from 8.30am - 8.30pm every day on free phone 0800 096 6606 or email pbssmail@bluecross.org.uk