Independent streams fake 'live' space video on Facebook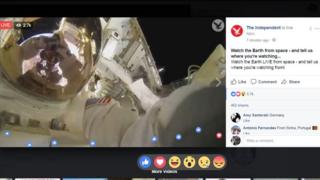 The Independent online newspaper has streamed a video it described as "live from space" on its Facebook page - but the footage was recorded in 2015.
More than 180,000 people viewed the video during the "live" broadcast, with at least 2,000 sharing the post.
The stream was ended shortly after the BBC contacted the paper and it has since been deleted.
A spokesman for the Independent said it regretted "the human error that led to the mistake".
The original footage was recorded by astronaut Terry Virts during a spacewalk in February 2015.
An hour-long recording of the spacewalk was posted to YouTube in April that year.
It is not the first time this specific recording from space has been shared on social media and wrongly said to be live.
In 2015, some 26m people watched the exact same footage on the Viral USA Facebook page.
While in 2016 the hugely popular Facebook page Unilad shared a similar "live" stream. This video appears to show Russian cosmonauts at the International Space Station.
The Independent asked viewers of the video to comment on it with where they were watching from.
It is not clear where the paper sourced it from, or why it chose to stream it on Sunday.
Its spokesman told the BBC: "The Independent removed a social media post this afternoon after it was brought to our attention that a video stream we believed to be - and which we described as - live was in fact footage from some time ago."
Nasa has previously advised people to check its official social media accounts to see if a "live" broadcast is taking place.
By George Pierpoint, UGC and Social News