Royal family: Queen bestows a new title on Prince Philip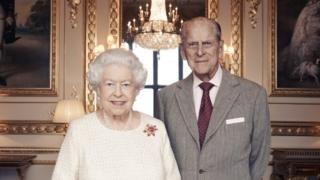 Was your last anniversary gift to your spouse a memorable one? Or did you plump for chocolates and flowers?
For one couple, such things would not quite do; a grander gesture is in order.
So for their 70th wedding anniversary, the Queen has bestowed on Prince Philip a new title: Knight Grand Cross of the Royal Victorian Order.
A statement from Buckingham Palace said the honour was given for "services to the sovereign".
To mark the anniversary, the Palace also released new photographs of the Queen and her husband.
The new title is the latest in a long list held by Philip, including his most famous, that of Duke of Edinburgh, which was conferred on him on his wedding day in 1947.
Among the others names the Queen can choose from to address her husband are the Earl of Merioneth, the Baron Greenwich, Royal Knight of the Most Noble Order of the Garter, Extra Knight of the Most Ancient and Most Noble Order of the Thistle, and Member of the Order of Merit.