'Why I'm dreading Christmas': Life as a kinship carer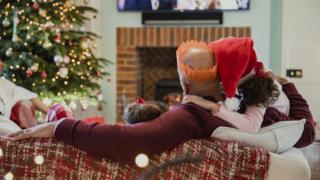 Hundreds of thousands of children will spend this Christmas with relatives or friends because their parents are unable to look after them. For these so-called kinship carers, life can be a struggle, as one grandparent explains.
Christmas with the Brooks family used to be a happy, fun occasion.
Michelle would cook dinner with all the trimmings for the 17 relatives squeezed into their very small home in Newcastle, followed by a family tradition of a raucous game of bingo.
Her husband, Dave, would hang a pair of gold earrings on the Christmas tree for her to find first thing in the morning.
Their three children would get whatever was on their wish-list, and a few extras in a stocking.
But one devastating night two years ago, Michelle's life was turned upside down.
Her daughter, in her 20s, who has problems with addiction and her mental health, suffered an episode that put her young children at risk.
Police officers turned to Michelle and asked if Thomas, then a toddler, and Jack, a pre-schooler, would be safe with her.
Yes, she replied. And the two boys went to live in Michelle's house, alongside her and Dave and their two teenage children.
Isolation
Since then life has been racked with uncertainty, bureaucratic wrangles and financial struggles.
There's also a legal battle, too many people to keep in the loop and a kind of isolation that comes with managing a constantly shifting situation and never being able to really confide in anyone.
"We have never had a night where we could go to bed and say everything is fine," Michelle says.
And the difficulties are never more acute than at Christmas.
Michelle is one of the estimated 200,000 kinship carers in the UK.
As a working family, she and Dave, like many in their position, receive no extra financial support from the government or local authority.
The charity, Grandparents Plus, has been their main source of support, providing help and free specialist advice.
It is campaigning for kinship carers like Michelle to be better recognised and better supported, arguing: "If you give kinship carers enough money, a lot of the other problems go away."
What is kinship care?
It's when a child lives full time - or most of the time - with a relative or friend who isn't their parent, usually because their parents aren't able to care for them
About half are grandparents
There might be an informal arrangement made with the parents, or there may be intervention by the local authority, leading to the child being placed with kinship foster carers on a Child Arrangement Order or Special Guardianship Order
Research indicates about half of children are in kinship care because of parents' drug or alcohol misuse. Other reasons include bereavement, imprisonment and abuse or neglect
Almost half of these children have special needs, commonly emotional or behavioural problems
Source: Grandparents Plus
On their first Christmas all together, Michelle tried to keep everyone happy, dealing with a string of visitors throughout the day in one-hour slots (the boys have different fathers).
"What happens this year - we're not sure," says Michelle. "I can't plan ahead. I have to see nearer the time and fit in around everybody."
In the meantime, Dave, a driver, is doing double shifts six days a week to put aside a bit of money for Christmas.
"I've no idea what our budget is, I don't even want to think about it," says Michelle.
But she knows there will be no earrings on the tree.
She and Dave repeatedly seek reassurances that neither will surprise the other with anything more than a box of chocolates.
Her uncomplaining teenagers, meanwhile, have been putting their feelers out, sensing they will need to adjust their expectations this Christmas.
It's something that Michelle struggles with.
"They have become insignificant in all of this. It's them who have forfeited a lot," she says.
In between appointments with social workers and lawyers, visits with the boys' parents and looking after her own children, Michelle works in a shop.
Her wage goes straight into a saving scheme to pay for a summer holiday next year.
In the past, she was in a position to donate presents to children who were in need. Last year, the charity, Relative Experience, sent her whole family Christmas presents.
"It's hard on the pride, but young children come before pride.
"That used to be me who put gifts into those supermarket trolleys, thinking, 'I hope that puts a smile on someone's face.' And it does."
Grandparents Plus chief executive Lucy Peake fears many kinship carers will have to rely on food banks and present donations this festive season.
"We can all feel bombarded by images of perfect families having perfect Christmases, and it's hard to measure up," she says.
Christmas can be a painful reminder to the children that they aren't living with their parents and a stressful time for their carers who step in to look after their grandchildren unexpectedly, she adds.
The charity says anecdotal evidence suggest the number of kinship carers is growing after guidance was issued to social workers to look within the family before putting children in care.
It wants the government to start formally recording their numbers - at the moment they only have the 2011 Census to go on.
'Anything could happen'
Michelle says she'll go through the motions this Christmas but, in truth, she dreads it.
There's a sense that anything can happen - Christmas exposes people's weaknesses, she says.
"It's juggling the situation, it's damage limitation, it's difficult."
Michelle is speaking out about her family's circumstances because she wants people to understand kinship caring, in the way they do foster care and adoption.
"Mention kinship care, and it's like 'you what?'" she says.
She has been talking to student social workers about her experience to help them understand more about it.
A Department for Education spokeswoman said it recognised grandparents' crucial role in caring for children who cannot live with their parents.
They were "treated equally with birth parents" in the benefits system in relation to child benefit, child tax credits and other means-tested benefits, she said.
Any carers with difficulties could seek advice and support from their local authority, she added.
The family's names have been changed to protect their identity