How Meghan made her mark as a 'real deal' campaigner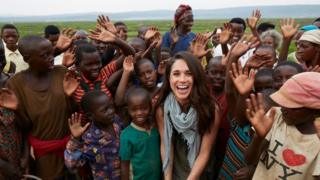 She has sparkle, style and star quality, as newspaper headline writers like to tell us. But Meghan Markle also has something else about her which wasn't always part of the princess-to-be package - but has become a key part of the modern role.
She comes into her new royal role already firmly established as a campaigning force.
Indeed, her and Prince Harry's shared passion for social change was, she says, what got him the second date.
Aged 11, she wrote a letter to the then US first lady, Hillary Clinton, lamenting a washing up liquid's TV ad strapline: "Women all over America are fighting greasy pots and pans".
Within a month, manufacturers Procter and Gamble had changed the word "women" to "people", she says.
"It was at that moment that I realised the magnitude of my actions.
"I had created my small level of impact by standing up for equality," she was to say some 20 years later, in an International Women's Day speech before the UN Secretary General, Ban Ki-moon.
At 15, she was volunteering in soup kitchens.
She's tackled the delicate issue of the stigma around menstrual health in an article for Time magazine and been global ambassador for World Vision Canada, which campaigns for better education, food and healthcare for children around the world.
It may not be unusual for actors to take up fashionable causes to boost their profile and appear kind and thoughtful.
But Meghan is the real deal, says Kate Robertson, co-founder of the charity One Young World.
She invited her to speak on a stage in Dublin after watching her in her hit TV series, Suits, and seeing her UN speech.
She said she thought Meghan would be a famous face that would interest their audience of young people from around the world, but couldn't be sure how good she'd be on a panel or speaking freely in a question-and- answer session.
But, when it came to the crunch, Meghan was "so eloquent, so erudite", she says.
"It wasn't your average actress stepping up and talking about gender equality. It was the real deal - very forthright, very confident and very un-celebrity," she adds.
As Meghan readies herself for royal life, she has said she wants a "clean slate" and so will no longer work as a UN women's advocate or for World Vision.
Instead, she plans to focus her attention on the UK and Commonwealth.
"This is the country that's going to be her home now and that means travelling around, getting to know the towns and cities and smaller communities," Harry's press secretary Jason Knauf said.
She will also become the fourth patron of the Royal Foundation of the Duke and Duchess of Cambridge and Prince Harry.
The foundation is behind Harry's Invictus Games - the Paralympic-style competition for injured servicemen and women and veterans - and also the mental health charity Heads Together.
For her first public appointment on Friday, Meghan will join Harry on his previously-arranged visit to a Terrence Higgins Trust World Aids Day fair in Nottingham.
Later, they'll meet head teachers taking part in the Full Effect programme, another of the Royal Foundation projects which aims to stop youth violence in the city.
Over time, Meghan is expected to carve out her own charitable interests.
Her friend Elizabeth Nyamayaro, a senior adviser with UN Women, knows Meghan won't rush into anything.
"She will spend a few months, if not years, working behind the scenes - listening, learning, identifying what needs to change, and pinpoint what she wants to make a difference on," she said.
Allan Bryce, editor of Royal Life magazine, thinks the Palace probably already has a good idea what Meghan wants to do.
Once she's fully initiated into the Royal Family's inner circle, she'll also have advisers to help guide her choices, he says.
And Mr Bryce sees a day, possibly as early as next year, when the Queen will step down from her official duties.
This will mean Prince Charles and his sons, William and Harry, will have to shoulder more of that work, he says.
Of all the royals, Princess Anne has consistently shown the greatest dedication to her causes, performing more engagements each year than any other member of the family.
Those visits and engagements don't make the papers that often but she's the busiest, says Mr Bryce.
Both Diana, the Princess of Wales, and the Duchess of Cambridge married into the Royal Family at a younger age - Catherine was 29 and Diana was just 20.
At 36, Meghan is fully-formed, she's older, she's used to the public eye, says Mr Bryce. By contrast, in the early years, Diana was "like a fish out of water".
"She had nothing to do, her marriage was not what it should be and it was the Duke of Edinburgh who pointed her towards doing something," he said.
By the time of her death at 36, Diana had used royal visits around the world to show empathy to the ill and impoverished, and overturned the image of the royals as aloof.
In particular, she had challenged the public's perception of HIV and Aids by shaking patients' hands.
The Duchess of Cambridge has also taken time to build up her portfolio since her marriage to Prince William - and is demonstrably keen to support the arts and children's causes including a hospice, the Scouts and tackling cyberbullying.
"Kate has been the big royal story for a while but Meghan might elbow her off the stage," says Mr Bryce.
He believes Meghan will fast become the biggest royal ticket, drawing interest in the UK and in the US.
"She has not got the fragility of Diana so will never achieve the saintly reverence, but she will attract that level of interest. It's going to be massive.
"The public will realise that unlike Princess Diana who was learning as she went along, Meghan Markle will step up to the job and be off and running."
Elizabeth Nyamayaro agrees. With her grace, ability to listen and passion to make social change, "she'll be fine - she'll be great in fact".