Mother of Briton killed in Syria speaks of 'hero' son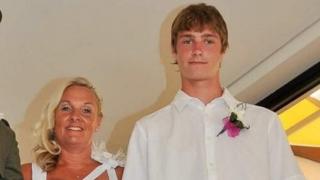 The mother of a British man who was killed in Syria has spoken of her "hero" son, who she tried to persuade to come home.
Oliver Hall, 24 volunteered to fight with the YPG, the Kurdish-led armed group which has been battling against so-called Islamic State.
Mr Hall was killed during an operation to clear mines from Raqqa in November.
Jane Lyndon said "he was a fun loving, cheeky, mischievous boy, who grew up to be a courageous and handsome man."
Mr Hall went to Bay House School, in Gosport, Hampshire, and after leaving school attended Fareham College, where he trained to be a telecommunications engineer.
Ms Lyndon said her son went on to work for his stepfather "whilst still trying to find his vocation in life".
She had no idea he was planning to travel to Syria.
"The first I knew about it was when I received a message from him saying he was abroad doing charity work.
"Ollie asked me not to be disappointed or angry with him and, in his own words, said: 'I am away for a couple of months doing voluntary work, this is something I have to do. I have never known what to do with my life but after a lot of time thinking and planning I have decided to come and do some charity work'."
This message was sent in August. A couple of weeks later Ms Lyndon found out he was in northern Syria.
"This was the most devastating news I could ever receive," she said.
It is estimated that hundreds of Westerners have travelled to Syria during the conflict to volunteer as fighters with the US-backed YPG, which has been fighting to recapture territory held by IS.
Dozens of British volunteer fighters have been amongst them.
Ms Lyndon said she, friends and family pleaded with her son to come home but he refused.
"He stated he was an adult and he had finally found his purpose in life and was making an impact on the world," she said.
"I would never want another family to go through this but at the same time Ollie is my hero, I am so proud of my son and miss him greatly."
"Please could I ask that my family and I are now left in peace to grieve for a wonderful son and brother."
Mr Hall's body will be repatriated to the UK, and the YPG has offered its support to his family.
A spokesman said he "will always be remembered by our people".
Mr Hall is the seventh British citizen to be killed with the YPG.
There will be a ceremony for him at the Smelka Border crossing in Syria, before his body is taken over the border into Iraq to begin the journey home.
The Foreign and Commonwealth Office continues to warn against all travel to Syria.