Chennai Six: First of group arrives home in UK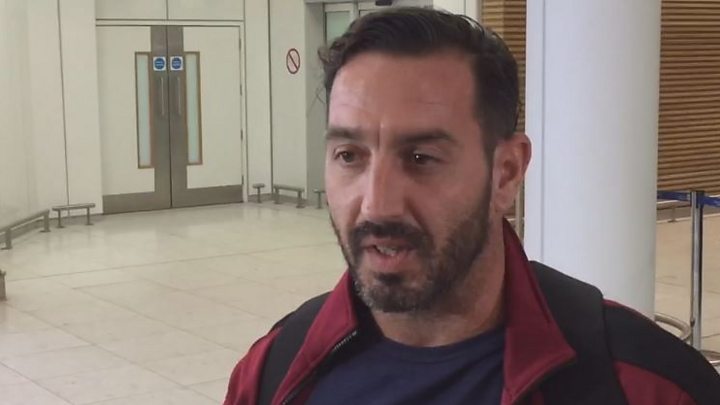 The first of the so-called Chennai Six has arrived in the UK, more than four years after the former soldiers were jailed in India on weapons charges.
Billy Irving and five other men were imprisoned in 2013 on charges of smuggling weapons and ammunition.
The group, who had been guards on a ship to combat piracy in the Indian Ocean, won an appeal against their convictions last week.
Mr Irving, from Argyll and Bute, arrived at Glasgow Airport earlier.
The others - Nick Dunn, John Armstrong, Nicholas Simpson, Ray Tindall and Paul Towers - are expected to arrive in the UK on Thursday.
The Chennai Six: What is their story?
Two pipers played outside the terminal to welcome the 37-year-old, who had cut his hair and beard since the most recent pictures of him in India last week.
Mr Irving said he wanted to send a "massive thank you" to everyone who supported the men during their time in India.
He told reporters at the airport: "I just want to thank everyone, they've been so kind.
"Thank you for your support, thank you so much. It feels excellent to be home."
Foreign Secretary Boris Johnson said the men's return was "wonderful news" and added their families and campaigners would be "delighted to see them return home after being separated for so long".
The men were working on the anti-piracy ship MV Seaman Guard Ohio, owned by the US-based company AdvanFort, when they were arrested in 2013.
They were held along with three Ukrainians, 14 Estonians and 12 Indians when customs officials and police found weapons and ammunition on board, which Indian authorities said had not been properly declared.
Who are the Chennai Six?
Nick Dunn from Ashington, Northumberland
Billy Irving from Connel, Argyll
Ray Tindall from Chester
Paul Towers from Pocklington, East Yorkshire
John Armstrong from Wigton, Cumbria
Nicholas Simpson from Catterick, North Yorkshire
Initially the charges were quashed when the men argued the weapons were lawfully held for anti-piracy purposes and the paperwork, issued by the UK government, was in order.
However, in January 2016 they were sentenced to five years in prison after a lower court reinstated the prosecution.