Police reveal 'unlawful' mental health detentions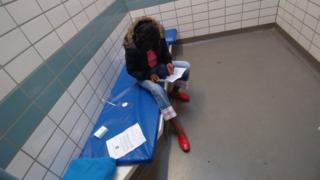 Police chiefs in England and Wales say they may be unlawfully detaining arrested people needing mental health care more than 2,000 times a year.
Some people have been held in police cells for several days because there is no hospital bed for them, the National Police Chiefs' Council (NPCC) says.
It says an inquiry into such mental health provision is needed.
The government said the use of police custody for people detained under the Mental Health Act had fallen sharply.
Under the Police and Criminal Evidence Act 1984, officers have 24 hours after an arrested person arrives at a police station to release or charge them.
But data gathered by the College of Policing, and shared with BBC Radio 4's Today programme, showed 264 instances where people were held for longer when they were judged to be in need of mental healthcare after being arrested.
In one case an adult was detained for six days before a bed was identified. A child was detained for five days.
Risk to themselves
The figures covered the last three months of 2016 and 21 out of the 43 police forces in England and Wales.
Some of the biggest forces returned no data - including the Met, West Midlands or any of the Yorkshire forces - and the NPCC estimates the national annual number of cases to be potentially more than 2,000.
When she was home secretary, Theresa May said no one with mental health problem should be detained by the police due to a lack of beds.
The NPCC says mental health services are not available quickly enough for detainees who need them.
Officers often have to decide between releasing people who could pose a risk to themselves or others, or breaking rules set out in law by continuing to hold them in police cells beyond the 24-hour limit.
Police forces have called for an inquiry by the Care Quality Commission, the hospital regulator.
A government spokeswoman said: "Since we reviewed the use of police custody for Mental Health Act detentions we have seen a 90% reduction in England in the number of people being held in custody who should be in NHS care, and Wales has had similar success."
An independent review is to consider how the Mental Health Act works, she added.
Labour's shadow police minister Louise Haigh said government reforms to keep people with mental health problems away from police stations were welcome.
But she added: "Without the mental health beds and resources to accompany it the police are put in an impossible situation - either to put people back on the street where they're at risk to themselves or others or to break the law and detain them."