Toni Mascolo, co-founder of salon chain Toni & Guy, dies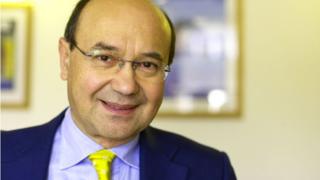 The co-founder of the hairdresser chain Toni & Guy - Giuseppe "Toni" Mascolo - has died at the age of 75.
Mr Mascolo and his brother, Gaetano 'Guy' Mascolo, opened their first salon in south London in 1963.
Offering an "Italian style" hairdressing service, the unisex salon grew into an international brand and staple of the British high street.
Mr Mascolo, who was the chief executive of the firm, died on Sunday surrounded by his family.
The Mascolo family were Italian immigrants who arrived in England in the 1950s They settled in Clapham, south London, where the brothers opened their first salon.
Hairdressing ran in the family and Mr Mascolo senior - a celebrated hairdresser in his own right - taught all four of his sons to cut hair from a young age.
Founded during the "swinging sixties", Toni and Guy offered a unisex service that appealed to both men and women, in contrast to traditional barber shops and woman-only hair salons.
Celebrities such as composer Andrew Lloyd Webber, and singer Dusty Springfield were among the famous faces who frequented the salon.
The firm opened its first central London salon in London's West End in 1973.
Shortly afterwards two more Mascolo brothers, Bruno and Anthony, helped propel the family business into an international brand.
Since then Toni & Guy has grown to comprise two global, franchised hair salon groups, with 475 shops in 48 countries.
Toni Mascolo was awarded an OBE for services to hairdressing in 2008 and in 2012 was honoured by the Fellowship of British Hairdressers with a lifetime achievement award
He is survived by wife Pauline, brothers Bruno and Anthony, children Sacha, Christian and Pierre, and many grandchildren.