Digital devotion: Can social media boost the Church's congregation?
By Callum May
BBC News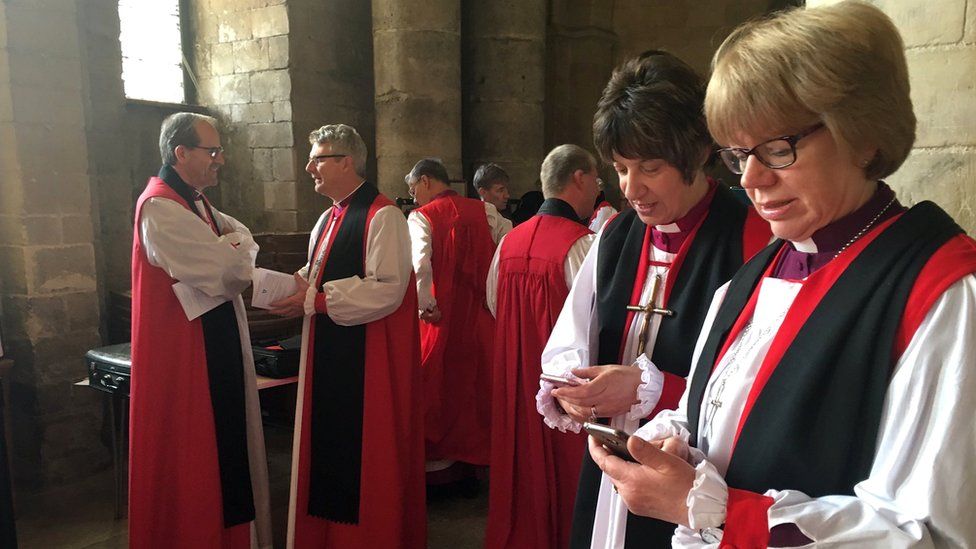 There was a second set of figures this year: it said more people see the Church's message on social media than in the pews.
According to the annual Mission Statistics, the worshipping community of the Church of England - the people who go to church once a month or more - stood at 1.1 million in 2016. Of these, 20% were under the age of 18 and 31% were aged 70 or over.
Attendance peaked during the Christmas period when 2.58 million people attended church.
The Church has had the same realisation as political parties: that people are increasingly engaged online, and it is therefore trying to reach a new audience with modern digital marketing techniques.
The Church of England's latest online offering, a video of a Christingle service, is being actively pushed towards new parents logging into Facebook.
It hopes the marketing drive will bolster the relatively small numbers who follow the Church on its official social media accounts.
This is a small number, comparable with the pages of lower-league football clubs, and the Church's new director of digital communications, Adrian Harris, says it's impossible to know how many of them are already practising Christians.
But he says Christmas and times of trouble or crisis, are when the Church's online audience increases.
After the London Bridge attack, the Church shared a prayer illustrated with a candle, which Mr Harris says was seen by more than one million people.
Details of more than 56,000 Christmas services have been put into the Church's new website, allowing smartphone users to calculate - among other things - how far they are from their nearest midnight mass on Christmas Eve.
Mr Harris - whose previous work includes spells with the Conservative Party and Tesco - is unembarrassed about stating that accessing the Christian message online is a valid alternative to going to church.
"It's another way of engaging with God, and it's somewhere where the Church of England believes it must reach people - however and wherever they are," he says.
Newcomers who do physically attend a service this Christmas will be offered a booklet encouraging them to come back.
"It's about allowing people to continue their faith journey through Christmas and into 2018," says Mr Harris.
The scheme has impressed Martin Sewell, a retired lawyer from Rochester in Kent and member of the Church's parliament, the general synod.
He previously complained that the C of E had been "slow off the mark" in taking advantage of the internet.
"We hear anecdotally that cathedrals and even traditional services are seeing an upturn in young attenders," he says. "One cannot help but suspect that the digital initiative has something to do with this."
A smaller-scale effort by two cousins from Lanarkshire has created what they claim is the third-most popular Catholic Facebook page in the UK inside a year.
John Mallon and Brian Timmons gave up their jobs to set up Sancta Familia Media, which carries videos of Catholic services and events.
Mr Mallon said the videos had had a total of 3 million views.
Some of them have catchy, clickbait-style headlines, such as, "Nine minutes that will change your view of the priesthood".
The most popular, about how to behave in church, has had 500,000 hits.
"In years gone by," he says, "the apostles spread the word in any way they could. We've got it so much easier now."
Sancta Familia Media became a full-time operation with the help of the cousins' parish priest, who allows them to work from two rooms in his church in the town of Mossend.
But Mr Mallon said worship could not exist solely on the internet.
"You can't say you'll watch a mass online. The sacraments have to be accessed."
The Church of Scotland set out three years ago to find 100,000 new members by 2025 using the internet.
Its website, Sanctuary First, is run by the Kirk's first "digital minister", the Very Reverend Albert Bogle.
He acknowledged when he took up his job in February 2017 that many people using it would not set foot in a church.
"There is a growing Christian audience online who seek quality content to nurture their faith," he said at the time.
"My role is about helping to provide an online community for those who have left the buildings and committee structures far behind, but not the church."
One argument against the narrative that traditional Western Christianity is in decline in the UK is that people now choose their faith, rather than inheriting it.
If that is the case, then churches will probably spend more of their time and resources in the future competing for attention in the very secular space that is the internet.