Highways England to explore wi-fi roads for driverless cars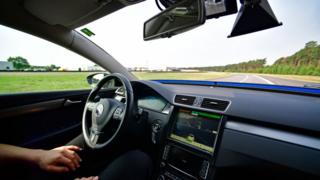 Wireless internet could be installed on UK motorways as part of preparations for driverless vehicles, a report says
Highways England's investment strategy says it is exploring improving Wi-Fi and 5G connectivity across a 4,400 mile network of UK motorways and A-roads.
It is part of a bid to back government ambitions to have "fully self-driving cars... on UK roads by 2021".
The agency hopes the technology can be used to send variable motorway speed limits directly into cars.
The Strategic Road Network report provides details of how Highways England intends to spend £15bn of investment from 2020.
The report says a roll-out of high speed fibre-optic cabling across the network would provide the infrastructure needed for "connected", or autonomous driving.
Highways England chief executive Jim O'Sullivan said the proposals, which includes expanding the number of smart motorways across the UK, would "help ensure the network continues to drive economic growth, jobs and prosperity" in the future.
High-speed internet capabilities, like 5G, would be required to allow driverless cars to be connected to roads, so they can be aware of upcoming obstructions like lane closures.
The report says Highways England is "exploring how 5G technologies could best be deployed across the road network in order to maximise the productivity benefits for self-driving vehicles".
It comes after Chancellor Philip Hammond set out the government's vision - in his autumn statement - to have fully driverless cars on UK roads by 2021.
The Department for Transport has opened the initial report to public consultation until 7 February 2018.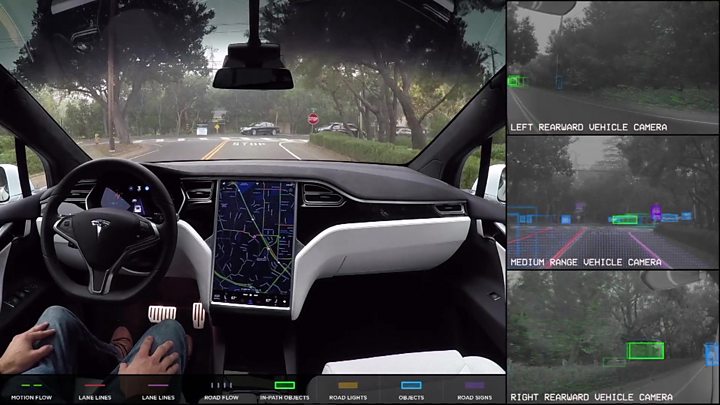 The technology would expand on smart motorways, where gantry signs inform drivers of variable speed limits, road obstructions and lane closures.
Highways England is preparing for a £15m trial of beaming traffic instructions and signs into cars in Kent, in 2018.
The A2/M2 corridor will be used to test the effectiveness of superfast internet cabling on different terrain, like tunnels.
Farming data into useful information is key
By Richard Westcott, BBC transport correspondent
Data is already being gathered from drivers.
Your phone knows if you've stopped on a road. Sensors in your tyres can tell the temperature of the surface.
The key is farming the data and turning it into useful information.
But will this get rid of those annoying yellow diversion signs which suddenly dump you off a motorway on to a road in the middle of the night, with no information about where the route is taking you or how long it will add to your journey?
I suspect a bigger priority for drivers is underfunded local roads that litter the country, and long road works where no-one seems to be doing anything.
The "connected road" trial will also see technology installed to give information on traffic and travel conditions, including road works, lane closures, and accidents.
These, alongside prevailing weather conditions, will be beamed into trial vehicles.