Butlins site among landmarks protected by Historic England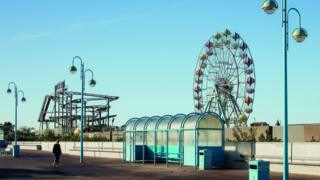 The gardens where Billy Butlin opened his first holiday camp are among 20 unusual sites granted protected status by Historic England.
A total of 1,041 historic sites have been given listed status in 2017, the government's heritage agency said.
Other landmarks include a Roman parade ground and acoustic mirrors used to detect aircraft prior to the invention of radar.
The agency said 99% of people live within a mile of a listed site.
Earlier this year, Historic England called celebrated 70 years since listing was introduced in the Town and County Planning Act in 1947 to protect important properties from over-zealous post-war builders.
It is estimated that the National Heritage List for England includes about 500,000 buildings, 1,600 parks and recreational grounds and 20,000 monuments.
John Glen, heritage minister, said the new additions showcase "the wonderfully distinct and diverse character of England and its people across thousands of years.
"I am pleased that so many important and interesting places have been protected for the nation."
Among those listed are:
Leaf Hall, Working Men's Institute in Eastbourne, East Sussex. Built in 1863, it housed coffee and smoking rooms as well as a skittle yard
The Dorset Martyrs memorial, Dorchester, Dorset: a sculpture by Dame Elisabeth Frink that was unveiled in 1986 and marks the site of former gallows where Catholic martyrs were hanged in the 16th and 17th centuries
Eliza Adams Lifeboat Memorial, Wells-next-the-Sea in Norfolk, which commemorates the 11 members of the RNLI lifeboat crew who died in 1880 when a large wave capsized their vessel
Japanese Garden at Grantley Hall, Ripon, North Yorkshire: a flood plain was converted into rocky canyons and water features in 1910, when Japanese-influenced gardens were fashionable
The gravestone of Blackie the war horse in Knowsley, Merseyside. Blackie survived service in numerous World War One battles including Ypres and the Somme, before being taken back to England after the war