More prisoners should be allowed to work, says minister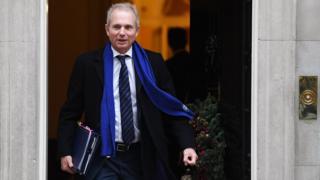 The justice secretary has said more inmates should be allowed to "commute" to work from jail.
Speaking at an event on prison reform, David Lidington said he was exploring "alternative options" to traditional sentences.
He said he was considering extending a temporary release scheme to allow prisoners to work or attend training.
"I certainly want to see numbers come down from their current record levels," he added.
In an effort to reduce the prison population, Mr Lidington also suggested that more prisoners could be released early, after a risk assessment, and finish their sentences wearing electronic tags.
'Captive market'
At the event in London, Mr Lidington also spoke of the "clear and present danger" faced by prisons from organised crime, especially the smuggling of contraband such as mobile phones and drugs.
He said the prison population represented a "captive market" for these gangs.
His comments came as the Ministry of Justice said that 6,500 inmates - amounting to one in every 13 - in England and Wales were involved in, or had links to, organised crime.
The availability of drugs has repeatedly been identified as a factor behind surging levels of violence in jails, and there are concerns that mobile phones are being used to organise further crime.
Mr Lidington called on online retailers to stop selling miniature mobile phones, which are often the size of a cigarette lighter and can escape detection.
He said smugglers had become more sophisticated in recent years and were now operating on a "commercial scale".
However, he added that ministers were "taking the fight" to the criminal gangs.