Boxing Day Family Puzzler 2017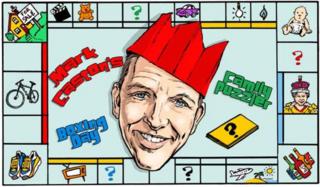 Celebrating 10 years of festive bemusement, bafflement and bewilderment, it is time once again for my Boxing Day Family Puzzler. As regular readers will know, this is the quiz where no-one is expected to know any of the answers.
The questions relate to events in 2017 and all the solutions are numbers. Contestants must simply use wisdom and judgement to get as close to the right figure as they can.
There are 20 questions and, to make it fair, each player/team should write their guesses down before revealing them.
One mark for the closest answer and three if by coincidence or brilliance, you get it spot on. Time-sensitive answers are correct as of 23 December.
Good luck.
Answers at the bottom
1) Blue Planet II was the most watched TV programme of 2017, attracting 14.1 million viewers. According to the production team, how many hours did crews spend underwater for each hour-long episode?
2) How many times has Donald Trump tweeted about "fake news" since he became President?
3) The average British worker got an annual bonus of £1,600 in the past financial year. You didn't? Nor did almost any health workers. But it was a prosperous year for bankers. How much did the average City type receive as a bonus?
4) Ed Sheeran's latest album, ÷ (Divide), broke records in 2017. In March, all 16 of its tracks were in the official UK top 20 singles chart. How many times has his album been streamed on Spotify?
5) This year has seen a focus on the continuing gender pay gap. The average working man in Britain earns 18% more per hour than a working woman. According to the Office for National Statistics (ONS), what is the difference in West Somerset?
6) The most densely populated part of the UK is inner London, where the population has risen by half a million since 2000 and is now officially estimated to be 3.2 million. What was its population in 1901?
7) New research published this year asked 11-15-year-olds in England if they'd ever had an alcoholic drink. What proportion said they'd never had more than a sip?
8) Paul Pogba is now the highest paid footballer in the Premier League. Dividing his wages by playing time in competitive matches, how much has he cost per minute this season?
9) There's been debate about "shrinkflation" this year - companies shrinking the size of their product but charging the same. In the 1960s, a standard KitKat weighed 35g (1.2oz). What does it weigh today?
10) The 2017 general election returned the highest number of women MPs ever recorded. What proportion of the House of Commons is now female?
11) The world record for the most people riding a single motorbike was broken last month by soldiers from the Indian Army Service Corps (above). The 500cc Royal Enfield cycle was ridden for 1.2km (0.7 miles). How many were aboard?
12) The median average price paid for a house in Knightsbridge, in Westminster, this year was £2.56m. What was the average price paid in the village of Horden, Durham?
13) Sir Bruce Forsyth died this year, aged 89, after a showbiz career spanning 78 years. To some, Brucie will be best remembered as the face of the BBC's Generation Game programme. Including specials, how many editions of the show did he present?
14) A survey this year asked British people if they belonged to any particular religion. What proportion of 18-24 year-olds said Church of England or Anglican?
15) Earlier this month, Donald Trump tried to rebuke the Prime Minister in a tweet but sent it to the wrong Theresa May. Theresa Scrivener (@theresamay) had just six followers when the president sent his message. How many did she have a week later?
16) The Paradise Papers revealed a surprising number of private jets registered in the Isle of Man. How many island residents are there for each PJ?
17) Children in Need raised another record total this year, with over £50m being raised on the night. How much was raised as a result of the first Children in Need broadcast in 1980?
18) The craze of 2017 was the fidget spinner - a toy the restless user can spin in their fingers. A standard model usually retails for just over £1. But the "Caviar Spinner Full Gold" from Russia was more expensive. How much would one of these cost (£)?
19) In 2015, 73% of UK adults used a computer at home. What is the figure now?
20) The US city of Detroit failed to set a new ugly Christmas sweater record this month. Fifteen hundred people gathered at Beacon Park wearing sweaters "clearly displaying Christmas or Hanukkah themes" but Guinness World Record officials said it wasn't enough. How many were needed to break the current record?
Answers:
1) 857
2) 168 (as of 22 December)
3) £14,770
4) 3.1 billion
5) 12% less
6) 4.5 million
7) 56%
8) £5,876 (as of 22 December)
9) 45g
10) 32%
11) 58
12) £29,000
13) 208
14) 3%
15) 1,365
16) 84
17) £1,000,587
18) £12,560
19) 66%
20) 3,474