Grandparents plead for girl abducted by ill mother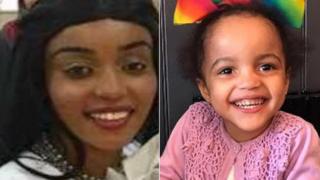 The grandparents of a girl abducted by her mother, who has schizophrenia, have pleaded for her return.
Elliana Shand, who is four on Tuesday, and her mother, Jessica Richards, 26, disappeared from London in May.
Her grandfather told the BBC's Victoria Derbyshire programme Ms Richards was "a very good mum" but unwell.
The judge overseeing the case said Ms Richards could be in the grip of hallucinations and might pose a "very real risk" to Elliana.
The child was placed in the care of her paternal grandparents, Sean and Eileen Doyle, in May, after social services staff at Barking and Dagenham Council intervened.
Last month, in an unusual move, Mr Justice Hayden released Elliana's name and photograph in the hope that someone could help locate her.
Warm and affectionate
The judge, who has been overseeing Elliana's case at the family division of the High Court, said evidence showed Elliana had travelled with her maternal grandmother, Sharon Shand, to Jamaica.
It is thought she also went to the USA, Sweden and Spain.
Mr Doyle said they had lost track of their granddaughter in Spain but thought she could be in London.
"We've got no idea where she is, which is frustrating in this day and age," he said.
Mr Justice Hayden said Ms Richards, who has schizophrenia and obsessive compulsive disorder, "under stress, no longer taking her anti-psychotic mediation, perhaps in the grip of auditory hallucinations... poses a very real risk to her daughter's safety".
He also described the relationship between Ms Richards and her daughter as very warm and affectionate.
"Her mum's a very good mum, she's just not very well. We want to find them both, but we genuinely don't know where they are," Mr Doyle said.
"We're grandparents. Our job is to look after our grandkids, it's a good job to have, and we just want to look after her.
"We're not at any stage trying to take her child, our job is to look after her until she's better."
Posters
The couple have been distributing leaflets and missing posters in areas where they think she could be, including Godalming in Surrey, north-west London and west London.
Both they and the judge have asked people to contact the police immediately if they know where Elliana is.
Appealing directly to Ms Richards, Mrs Doyle said: "Please give us a ring, let us hear Elliana's voice, let us know you're both OK, let's talk, we're happy to have a meeting."
Mr Doyle added: "We know them, we know they're not bad people, we're just in a situation that's escalated out of control that has got to the highest court in the land, it's bizarre that we're even there."
Watch the BBC's Victoria Derbyshire programme on weekdays between 09:00 and 11:00 on BBC Two and the BBC News channel.