Thousands hit as fog disrupts flights at London airports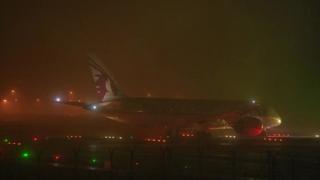 Thousands of passengers have faced disruption after freezing fog grounded flights.
Forty-nine British Airways flights from Heathrow and several from Gatwick and London City airports were cancelled.
The Met Office has lifted a severe weather warning for southern and central England and eastern Wales which had been issued early on Tuesday.
Passengers travelling to Europe on Tuesday are able to rebook alternative flights until Friday.
Heathrow said it had cancelled "a small number of flights" in advance due to poor visibility and apologised for the disruption.
It explained that more space had to be left between each plane using its runways and, as the airport runs at "more than 99% capacity", this made some cancelations "inevitable".
A spokeswoman said this decision was made in partnership with air traffic control provider Nats.
She advised all passengers to check their flight's status before heading to the airport.
"As always, Heathrow's top priority is the safety of our passengers and we apologise to those whose travel may be impacted by the weather," she added.
On Monday, all flights at Manchester Airport were grounded for several hours as fog closed one runway and "essential repairs" were made to a "minor defect" on the other.