Was Christmas tree removed to avoid Muslim offence?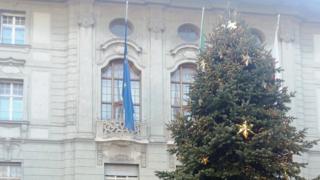 Social media has been working itself up into a lather over claims that Italian officials ordered the removal of a Christmas tree to avoid offending Muslims.
Reports in the Italian press had claimed that officials ordered the Christmas tree in the northern-Italian city of Bolzano to be taken out of the town hall because a Muslim group was due to use it.
The story was quickly seized upon by right-wing media commentators and social media users. The only problem? It appears to have been misreported.
Fox News presenter Tucker Carlson was among those to share the false claims. His tweet alone has attracted over 12,000 retweets, likes and comments. He links to a website founded by US blogger Robert Spencer.
In 2013, Spencer was banned from entering the UK to speak at a far-right English Defence League rally by then home secretary Theresa May. A UK government spokesman said at the time that individuals whose presence "is not conducive to the public good" could be excluded by the home secretary.
The story has been widely shared online, sparking xenophobic comments on social media.
Some Twitter users have even claimed that the town was instructed to remove all its decorations.
Here's what really happened.
Bolzano's town hall has several rooms that can be used for meetings and parties by charities, political parties or other associations.
Last week a group of sports veterans had a party in one room and put up a Christmas decoration made of 30 pieces of green cardboard to look like a Christmas tree.
The next morning the council asked them to remove it in accordance with the rules, which state that the room must be left in the same condition in which it was found.
That day, a Muslim association was due to use the room, but this was not the reason the tree was removed.
"Imagine what you'd have in that room after six months," said council spokeswoman Alessandra Albertoni.
She added that the Christmas decorations on display in the rest of the town should have put an end to the rumours.
Bolzano spends 200,000 euros (£177,000) each year on Christmas trees and decorations.
"The idea, that the municipality would remove, or order to remove, a Christmas tree from a public room because of any excess of respect for different cultures sounds almost ridiculous."