'I've invited a stranger for Christmas'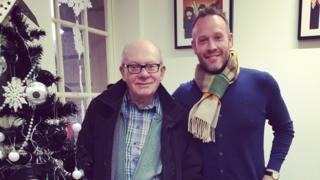 This Christmas, a tree in Halifax, West Yorkshire, has three presents among the others under its branches, each labelled "George Stubbs".
Last year George ate his Christmas dinner in a centre for people alone during the festive season. At 83, he has no family left since his wife died five years ago.
But on Christmas Day, Mark Richardson will drive to George's house to pick him up, while Mark's family will be waiting at home, looking forward to tucking into turkey and mince pies with George - a man Mark met just a few months ago.
"It's been a big year for me," says Mark, 38. "In March I was made redundant after 20 years in the same place."
He decided to fulfil a lifelong dream by opening a cafe in the Piece Hall in Halifax.
"My granddad James has always been my mentor, and I looked up to him. He was really looking forward to seeing the cafe," Mark says. However, James died three days after opening day.
"My mum told me the news while I was working. He never saw the cafe."
Just two hours after Mark heard the news about his grandfather, an elderly man came to the cafe.
"He had a coffee and a brownie - there were crumbs on his jumper. I remember him even though it was packed. His name is George."
You may also like:
George came to the cafe again a few days later and the two men talked for over an hour.
"It was fate that my granddad died and, on the same day, George came into my life," says Mark. "He's this lovely old fellow, with no family, no children."
George visits the cafe every week now and Mark says he feels like their friendship honours his granddad by doing what he would have done.
"After everything that happened to me this year, this man came into my life - it's amazing."
Together they talk about Halifax, and share stories about their lives.
After hearing George spent last Christmas alone, Mark invited him to his house this year.
"He's very humble, and was totally taken aback. He blushed and said: 'Really? That's amazing.'"
George says the invitation came out of the blue: "I went to the Piece Hall originally because I love the place. Then our friendship started up. I wasn't expecting to be invited for Christmas."
Mark's wife and children have all met George. Mark says he is looking forward to sharing his home with George on Christmas Day.
"We'll look after him as a family. He's sort of a guardian angel. Being aware of how many people are alone this time of year, I only wish everyone could do that."
For George, he says visiting Mark at home for Christmas will make a "lovely change".
"I'm all on my own now so I'm happy to be invited. As long as I'm able, I'll carry on popping into the cafe."