Sir Bob Geldof donates Band Aid archive to Irish museum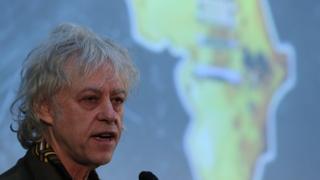 Sir Bob Geldof is donating his Band Aid archive to the Irish state.
The collection, including artwork, poetry, music recordings and hundreds of letters, will be held by the National Library of Ireland.
He revealed that the famous 1984 campaign for those affected by a famine in Ethiopia received wedding rings and £1m from the Crown Prince of Kuwait.
A young married couple from Scotland tried to give the proceeds from the sale of their house, Sir Bob said.
Organisers had felt unable to take the money, he added.
The archive is said to reveal the mammoth extent of the organisation behind Band Aid, including the fleets of ships and trucks that distributed relief supplies.
Speaking about the collection, Sir Bob said: "This then is our thanks and gratitude to Ireland and the Irish.
"We want you to use this gift for the benefit of those in whose name we too will continue to work."
The archive will have to be transported to Dublin from London, where it has been in storage.
Once the whole collection has been catalogued and preserved, selected items will be exhibited and digitalised.
The Band Aid campaign brought together musicians including George Michael, Bono, Duran Duran and Bananarama to record Do They Knows It's Christmas?
It was the fastest selling single in UK history and stayed at number one in the singles chart for five weeks, raising £8m.
Concerts in London and Philadelphia then raised millions more.