Damian Green: Vendetta or architect of his own downfall?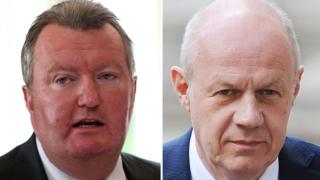 Allies of Damian Green are said to regard his dismissal as the culmination of a nine-year vendetta by police, orchestrated by Bob Quick, the former Metropolitan Police assistant commissioner.
Mr Quick oversaw a controversial investigation in 2008 into leaks from the Home Office which led to Mr Green's arrest, a raid on his Westminster office and the seizure of his parliamentary computers.
The Scotland Yard officer faced such heavy criticism over the inquiry that when he made a security blunder in April 2009, inadvertently revealing details of an anti-terror operation, support for him quickly drained away and he resigned.
Implicit in the suggestion of the "vendetta" theory is that the first secretary of state's dismissal was somehow "payback" by Mr Quick for that career-ending leaks inquiry.
But the reality is that Mr Green was the architect of his own downfall.
On November 4, as the Sunday Times presses rolled with the exclusive story, confirmed by Mr Quick, that pornography had been found on Mr Green's work computers, the MP tweeted a statement dismissing the claims in the strongest possible terms.
The story was "false", said Mr Green, who described the allegations as "disreputable political smears" from a "tainted, untrustworthy... and discredited" officer.
Furthermore, police had "never suggested to me improper material was found", he wrote.
Mr Green's statement was a calculated, but high-risk, gamble, apparently intended to recast the pornography claims in the light of a police feud and deflect attention on to Mr Quick's motives.
And for a while it worked.
Indeed, a week later, when the Met Commissioner at the time, Sir Paul Stephenson, told the BBC that he too had been aware of the pornography find, the cabinet minister repeated his assertion that he had never been told about "improper material" on his parliamentary computers, claiming again that the disclosure was being made for "ulterior motives".
But as the Cabinet Office inquiry has now established, Damian Green's statements were "misleading and inaccurate".
In fact, as Health Secretary Jeremy Hunt has acknowledged, his former colleague "lied".
Mr Green knew about the pornography all along: police had told his lawyers in 2008 and then discussed it with him in 2013.
Only Mr Green can explain why he denied all knowledge of the material.
Mr Hunt suggested on the Today programme, on BBC Radio 4, it was something "he didn't mean to say", but Mr Green said it twice, which indicates it was rather more than a slip of the tongue.
His vehement protestations of innocence and counter-accusation against Bob Quick had the effect of ratcheting up the row when it might have served his interests better to dampen it down.
Neil Lewis, the detective who had inspected Mr Green's computers in 2008, was so angered at the minister's remarks that he contacted Mr Quick to offer support and made himself available to the Cabinet Office inquiry.
The inquiry never contacted Mr Lewis to give evidence, fuelling his concerns that it would not be able to establish the full facts about the pornography and might result in a whitewash.
As a result, the former police IT specialist later agreed to a broadcast interview.
Mr Lewis's decision to speak out, together with Mr Quick's public statements, are now being investigated by the Information Commissioner, who will assess whether they broke data protection laws.
A number of senior politicians and police officers believe the two men breached their duty to keep confidential information gleaned during the course of a police inquiry.
But it is unclear if the pair, who claim they have acted in the public interest, have done anything illegal. They cannot face internal disciplinary sanctions because they have retired from the police service.
Searching questions
Besides, the focus of this saga remains on Damian Green.
After all, it was his conduct that sparked the revelations.
And given that the Conservative MP now admits knowing about the claims pornography had been found on his work computers there are searching questions about what he did or should have done with that information.
If, as he alleges, he had not downloaded or viewed the material himself, did he inform the parliamentary authorities that his computers had been improperly accessed or hacked by someone else?
Did Mr Green tell David Cameron that his computers' security may have been compromised when the former prime minister appointed him to the Home Office in 2010?
And was Theresa May informed about it when Mr Green was her policing minister between 2012 and 2014, and later when she rejuvenated his political career by bringing him into the cabinet?
There may be wider issues for the police - particularly where the boundaries lie between maintaining confidentiality and exposing alleged wrongdoing. But that should not detract from the bigger questions facing a cabinet minister who failed to tell the truth.