V&A: Designer defends new museum uniform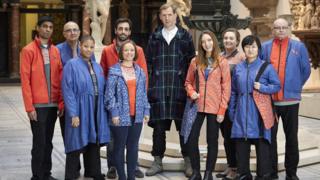 A new uniform created by British fashion designer Christopher Raeburn for staff at London's Victoria & Albert Museum has raised a few eyebrows.
The eye-catching blue and orange clothes were inspired by the famous museum's collections and give the staff "visibility", the designer said.
But one art critic said they were "awful", while other people said staff now looked like supermarket workers.
Mr Raeburn said he had wanted to "disrupt things, in a good way".
The garments, which will be worn by gallery assistants, retail staff and volunteers, were described by the V&A as "colourful, practical and adaptable".
The 35-year-old designer, known for his sustainable fashion, said he was "really proud" of the collection, which he aimed to be adaptable for different temperatures.
He said: "The range of items that the staff need is pretty broad. There is a need for visibility. They felt their uniform was too formal."
It is the museum's first new outfit in 10 years, replacing a more traditional black and white design, and features t-shirts, bomber jackets and rainproof parkas made from recycled or organic materials.
The V&A, one of the world's leading museums of art and design, said staff were consulted throughout the design process.
But when it posted the new uniform on its social media account, it received a mixed reaction.
British art critic Waldemar Januszczak tweeted: "Oh dear. The V&A has unveiled the new uniforms it has designed for its staff. There is no nice way to say this - they are awful!"
Author Philip Pullman responded by saying: "I cannot believe it."
Dr Janina Ramirez, an academic at the University of Oxford, said: "Please no?!?!? They look like a French exchange group. This is not good."
Others compared the uniform to those worn in Sainsbury's, B&Q and outdoor clothing shops.
Some people suggested the design could cause confusion.
Joanna Sterling tweeted: "For a museum of design these are appalling. Would visitors know they were staff or just another tourist lost in the museum wearing weird clothes?"
Another Twitter user asked: "Does it rain a lot inside the museum?"
The museum replied by saying that staff sometimes work outdoors managing queues, adding: "Our new coats will keep them dry on a drizzly day like today!"
However, Mr Raeburn, a graduate of the Royal College of Art, received support from his former university which said it "loved" the design.
Caterina Lacueva Bis tweeted: "Amazing, V&A always ahead of the curve!".
Kay Gammie said: "I've worn the new uniform all day, so I can confirm that it is comfortable, of good quality, and looks amazing!"
Mr Raeburn, whose designs have previously been worn by Emma Watson and Tinie Tempah, said he was not put off by negative comments.
He said: "It's really important that there's conversation around these things. We wanted to disrupt things, in a good way.
"The V&A wanted something new, something fresh to challenge the status quo. This is what happens... it's healthy."
Tristram Hunt, director of the museum, said: "We are delighted to have worked with Christopher Raeburn on these brilliant, colourful, adaptable new uniforms.
"They are an exciting development for our team and a reflection of the V&A's contemporary style, as we look forward to another ambitious year of activity in South Kensington and around the country."
You might also like: