Tanni Grey-Thompson told there was 'no room' on train for her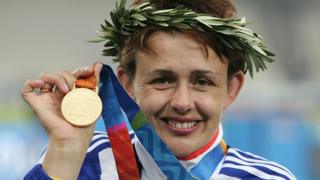 Paralympian Baroness Tanni Grey-Thompson has said she was stopped from boarding a train after a passenger told staff there wasn't space for her.
She said in a tweet: "Merry Christmas to the person on the train who just stopped me getting on. Told member of staff 'there's no room for her'."
"Everyone else waiting on the platform got on," added Baroness Grey-Thompson, a wheelchair user with 11 gold medals.
The athlete explained in further tweets that the passenger "wouldn't move".
Baroness Grey-Thompson, 48, said this put the member of train staff in an "awkward position".
She later returned to Twitter to say she would not be commenting further on her experience, and described her original tweet as "a moment in time".
But she did pay tribute to the "lovely" station staff.
News of the incident was greeted with shock by other social media users, including the columnist Grace Dent - while some questioned why the train staff had not intervened.
Baroness Grey-Thompson, one of Britain's most successful disabled athletes, was named a Life Peer in 2010 and also sits on the BBC Board.
Since retiring in 2007, the Cardiff-born athlete has become the patron of numerous charities, including Sportsaid Foundation and the Duke of Edinburgh Awards scheme, and was appointed Chancellor of Northumbria University.
Other stories you might like:
Earlier this year, Paralympian Anne Wafula-Strike said she was left "humiliated" after wetting herself on a rail journey because the disabled toilet was out of order.
She eventually received a financial settlement over the lack of accessible toilets on the three-hour journey.
The wheelchair racer said: "To my amazement the toilet was boarded up with a sign saying it was out of order."