Queen's message pays tribute to London and Manchester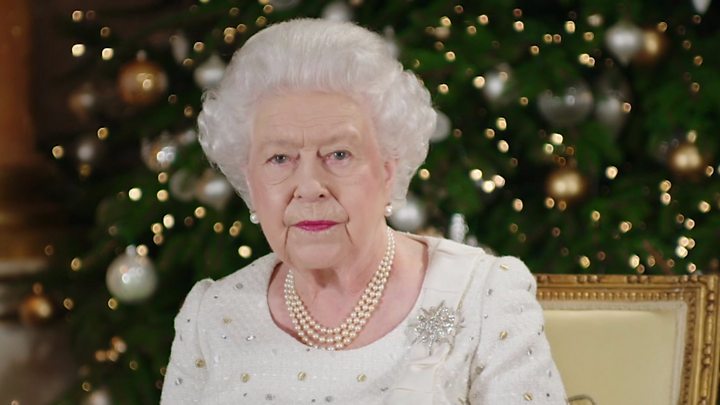 The Queen has paid tribute to London and Manchester in her Christmas Day message for their handling of this year's terror attacks.
She said it was a "privilege" to meet the concert attack survivors in May and stressed both cities' "powerful identities".
The monarch also remembered the victims of the Grenfell Tower fire.
In the year of her 70th wedding anniversary she praised the Duke of Edinburgh's support.
Despite missing the Christmas morning service last year due to illness, the Queen spent this year at Sandringham with the Royal Family including Prince Harry and his fiancee Meghan Markle.
Looking back over 2017, the Queen reflected fondly on her relationship with Prince Philip amid his decision to "slow down a little".
She said: "I don't know that anyone had invented the term 'platinum' for a 70th wedding anniversary when I was born. You weren't expected to be around that long."
This summer Prince Philip retired from his programme of public engagements, although he has continued to attend some events involving the Queen.
In the broadcast, the Queen also praised her husband's "unique sense of humour".
She recorded this year's Christmas message to the Commonwealth a few days ago in the 1844 Room at Buckingham Palace.
The message's main theme is the importance of home, which she describes as a place of "warmth, familiarity and love", with a "timeless simplicity" and "pull".
Surrounded by family photographs and a picture of newly engaged Prince Harry and Meghan Markle, the Queen said her family "look forward to welcoming new members into it next year".
The Duke and Duchess of Cambridge are expecting their third child in April. while the prince and Ms Markle will wed in May.
On a table, alongside photographs of Prince George and Princess Charlotte, were two pictures of the Queen with the Duke of Edinburgh, one of which was taken on their wedding day in 1947 and the other from their anniversary in November this year.
The Queen was dressed in an ivory white dress by Angela Kelly, which she first wore for the Diamond Jubilee Thames River Pageant in 2012.
She also expressed gratitude towards emergency service workers in a year of "appalling attacks" and highlighted the "extraordinary bravery and resilience" of survivors.
Referencing the Grenfell Tower fire which claimed the lives of 71 people, the Queen described it as "sheer awfulness".
"Our thoughts and prayers are with all those who died and those who lost so much, and we are indebted to members of the emergency services who risked their own lives this past year saving others," the Queen said.
Five people: four pedestrians and a police officer, were killed in the Westminster Bridge attack in March.
In May, the Queen visited victims of the bombing at Manchester Arena, in which 22 people died. A suicide bomber struck as they left the venue following a performance by US singer Ariana Grande.
"I describe that hospital visit as a 'privilege' because the patients I met were an example to us all," she said.
The following month, eight people died when three men in a van ploughed into pedestrians on London Bridge before going on a knife attack in nearby Borough Market.
Later that June, a man died when a hired van ran into worshippers near the Muslim Welfare House in Finsbury Park, north London.
The Queen's Christmas message was broadcast at 15:00 GMT on BBC One, and can be watched again on iPlayer.