Grenfell firm to pass responsibility for homes to council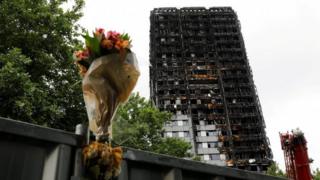 The firm that managed Grenfell Tower says it will hand over responsibility for thousands of properties to the local council by the end of January.
Kensington & Chelsea Tenant Management Organisation (TMO) said it would "temporarily" give control to London's Kensington and Chelsea Council.
The council voted in September to end the contract, a month after the TMO was stripped of responsibility for managing homes in the estate around the tower.
The TMO managed almost 10,000 homes.
It was heavily criticised after the 14 June fire, in which 71 people died.
In August, it was stripped of its responsibility for the management of properties in the Lancaster West housing estate, including Grenfell Tower.
Then in September Kensington and Chelsea councillors unanimously voted to end the contract with the TMO, saying the firm "no longer has the trust of residents in the borough".
The following month, the TMO and the Royal Borough of Kensington and Chelsea (RBKC) said they were working together to secure an "orderly transition".
In a letter to residents, dated 22 December, chairwoman Fay Edwards said the TMO's board had "reluctantly decided" it could "no longer guarantee that it can fulfil its obligations" in regards to its contract with the council.
"The board has decided that it would be in the best interests of all residents that the services which the TMO currently provides are temporarily handed back to the council while it carries out consultation with you about the future management of its housing stock," she said.
She said the consultation "will take some time" and said the handover of responsibilities will take place by 31 January.
'Interim measure'
The letter continued: "The TMO will continue to exist as an independent corporate entity and the board will continue to be accountable to its members."
But Joe Delaney, who lived in a block formerly managed by the TMO and is a member of the council's Grenfell recovery scrutiny committee, criticised the decision.
He said: "My main concern at the moment is capacity - [the council] hasn't even shown the capacity to deal with the Grenfell disaster, so how can they demonstrate that they have got capacity to bring stuff in-house at this time?"
He added: "And also, what precisely is KCTMO going to do during this time? It is still going to be getting money from the council to keep itself up and running, but it won't have a job."
A council spokesman said: "We are aware of the update from the TMO to residents and we will be writing to all residents to make sure they have clarity on next steps.
"We are clear, though, that this is only an interim measure."
In a letter which will be sent to residents, deputy council leader Kim Taylor-Smith said they would decide how "you want your homes managed in future".