UK weather: Snow causes travel delays and power cuts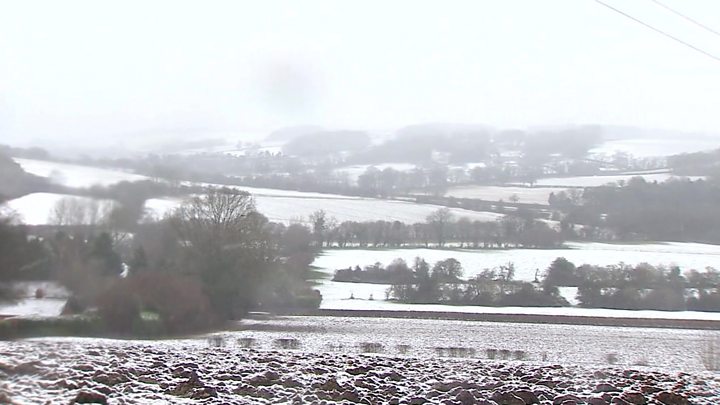 Heavy snow and ice have disrupted road and air travel in parts of the UK and left thousands of homes without power.
Drivers were at a standstill on the A14 in Northamptonshire for several hours, while a lorry crash on the M1 blocked the motorway.
The Met Office has issued a yellow weather warning for ice overnight across most of the UK.
Passengers at Stansted Airport faced long delays as flights were suspended twice to clear snow from the runway.
A spokesman for the airport said the snow had passed over and they were not anticipating any more closures. Many flights have been delayed and almost 30 outbound Ryanair flights have been cancelled.
Some passengers have complained on social media that they have been stuck on planes on the ground for several hours.
Luton Airport said it had to significantly reduce the number of inbound flights it was accepting.
Some flights have also been cancelled and there have been delays to allow de-icing of aircraft, a spokesman added.
Ryanair apologised for having to cancel "a small number of flights" because of runway closures at several UK airports.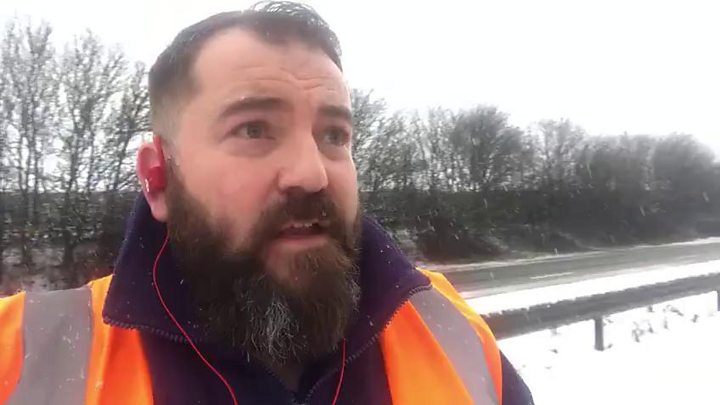 Meanwhile, Western Power Distribution said about 4,000 homes were without power in the Midlands, south-west England and Wales, but that more than 25,000 customers had had their power restored since Tuesday morning.
The firm said the cuts were all snow-related and extra staff - who had been on standby for poor weather - had been called in to work to reconnect properties.
Scottish and Southern Electricity Networks said about 2,000 customers were still without power at 16:30 GMT.
Andover and Basingstoke in Hampshire, Melksham and Swindon in Wiltshire, Newbury in Berkshire, as well as areas of Oxfordshire, had all been affected, it added.
Power had now been restored to about 17,000 properties, the firm said.
Frank Bird, from Highways England, said the worst of the conditions were now over in the West Midlands, as the bad weather had moved eastwards.
He said 2,000 tonnes of salt and grit had been put down in the region overnight, adding that treating roads was a "battle that we are constantly fighting".
One of those caught up in the problems on the A14 was lorry driver Simon Talbot, who told BBC News he had been stuck for more than three hours.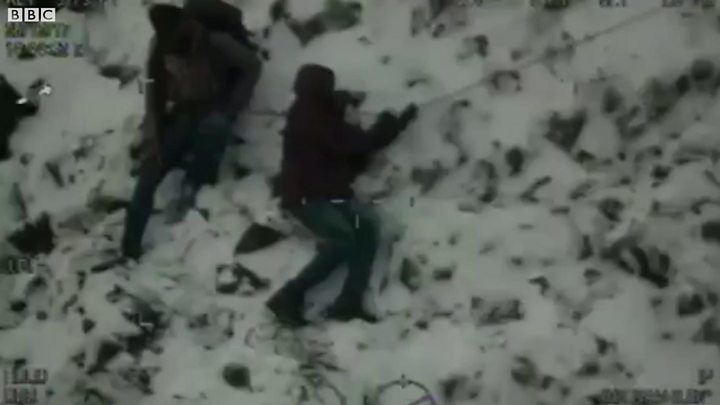 "I've been stationary since about 02:20 GMT westbound on the A14, there is approximately 5ins (12cm) of snow we've had and I'm just stationary," he said.
"I'm on an incline and there are lorries and vans in front that are unable to get up the hill because of the snow. So it is just a waiting game at the moment."
Tara DeFabrizio was stuck on the road for five hours, after leaving home from Northampton at 06:00 GMT.
"It's a complete standstill. I've called my boss now to say I won't be coming in."
She added: "I don't know why it's so bad this time - when we had a lot of snow two weeks ago, I got to work fine."
Highways England said all lanes are now open on the M3 westbound between junction two and three following an earlier collision.
However, it advised passengers to allow for extra time when travelling on the M25 clockwise, as one lane between junction 26 and 27 remains closed due to an accident.
Referring to an earlier incident on the M1, Leicestershire Police tweeted there had been an accident involving a lorry, which had blocked all three lanes.
The force said the motorway had been reopened shortly after 10:00 GMT.
It added: "Please be aware that snow is falling across the county and in some cases it is settling, causing hazardous conditions for drivers. Please take care and take the necessary precautions."
Officers said there have been "long delays" on the A34 between the M4 and A4185 in Berkshire due to the weather conditions and slow moving traffic.
Northamptonshire Roads and Armed Policing Team (RAPT) tweeted: "Heavy snow has started. The M1 has quickly become treacherous. RAPT on scene at a single vehicle RTC (road traffic collision)."
Three lanes of the M25 were also closed near Heathrow earlier following an accident.
Elsewhere, the Welsh Grand National horse race was postponed after 6cm (2.3in) of rain and snow fell on the course within 48 hours.
Meanwhile, the Environment Agency currently has flood warnings in place - meaning flooding is expected - in some areas, as well as dozens of flood alerts.