John McDonnell: 'Alarming' household debt to keep rising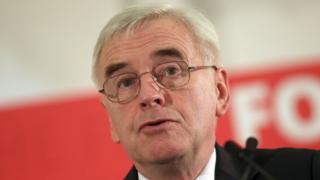 Shadow chancellor John McDonnell says the "alarming increase" in average household debt is set to continue over the next four years.
Labour warned unsecured borrowing could exceed £19,000 per household by 2022.
The prediction comes from Labour's analysis of official data. It claims average household debt has risen from £10,921 in 2010 to £14,426 in 2017.
The government said it was helping working families "earn more and keep more of what they earn".
"We are cutting taxes, increasing basic pay, freezing fuel duty and helping first-time buyers onto the housing ladder."
Unsecured household debt includes credit cards, bank loans, student loans and car loans but not mortgage debt.
Labour analysed data from the Office for National Statistics and Office for Budget Responsibility.
It has predicted that if household debt follows the current trajectory, it will increase to £15,035 next year and potentially to £19,146 by 2022.
Labour obtained its figures by averaging the total amount of unsecured debt across all households.
Mr McDonnell said: "The alarming increase in average household debt already means many families in our country struggling over the Christmas period.
"The Tories have no real answers to tackle the debt crisis gripping our country, and have no solutions to offer those struggling to get by as prices run ahead of wages."
This analysis comes as the Resolution Foundation, an influential research group, said that the UK's pay squeeze will end next year, but a meaningful rise in wages remains out of sight.