Spectacular new year firework displays welcome 2018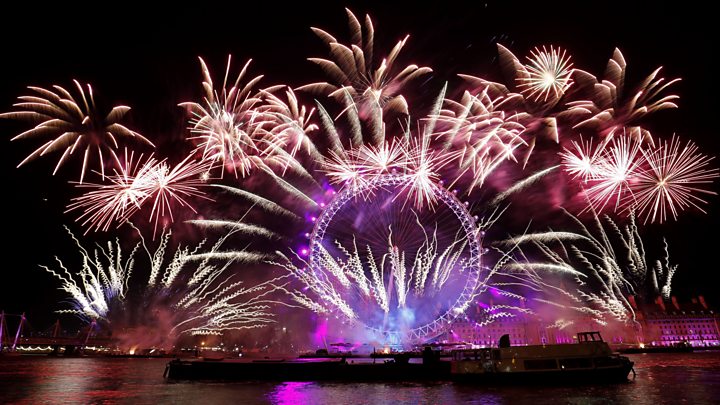 The UK has welcomed in the new year with spectacular firework displays in London and Edinburgh among the highlights.
More than 100,000 ticketholders watched London's midnight firework show from the banks of the River Thames.
Big Ben also chimed to welcome in 2018, having been turned back on part way through restoration work.
Meanwhile, Hogmanay in Edinburgh went ahead, despite 76mph winds hitting parts of Scotland on Sunday.
Tens of thousands of people were celebrating in the Scottish capital, undeterred by earlier concerns that Storm Dylan might threaten events.
Rag'n'Bone Man headlined Concert in the Gardens, while The Human League were among the acts that took to the street party stages.
A soundscaped fireworks display over the castle entertained revellers for the first nine minutes of 2018.
In central London, the soundtrack to the midnight show was dominated by female artists, including Aretha Franklin, Ariana Grande and Florence Welch, to mark the centenary of women getting the vote.
Some 10,000 fireworks lit up the sky in every colour, with the London Eye as the centrepiece, in a 12-minute display.
Mayor of London Sadiq Khan tweeted that in London "we celebrate our diversity and strive for equality".
London Ambulance Service (LAS) treated nearly 300 people across central London, and took 77 people to hospital.
Many were suffering from alcohol-related illnesses and were helped to sober up or treated for minor injuries, the LAS said.
People waking up feeling unwell after a heavy night are being urged to use walk-in centres or NHS 111 to leave ambulance crews free to help others with more serious conditions.
Fewer Met Police officers were deployed during the celebrations, despite four terror attacks in the city in the past year.
Security at the event appeared tight, with armed police on patrol and security barriers erected.
Superintendent Nick Aldworth said "a mix of overt and covert officers" were on the streets, and CCTV and dogs were in use.