Queen Elizabeth in conversation for coronation documentary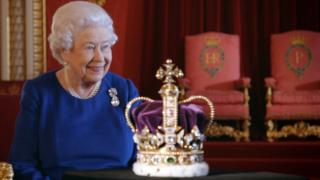 The Queen will share memories of her coronation when she makes a rare appearance in a television documentary.
In the hour-long BBC programme - The Coronation - the Queen talks with royal commentator Alastair Bruce about the ceremony in 1953.
She also discusses the day in 1937 when, aged 11, she watched the coronation of her father George VI.
"I've seen one coronation, and been the recipient in the other, which is pretty remarkable," she says.
The Queen ascended to the throne at the age of 25. The glittering ceremony caught the imagination of a nation still in the grip of post-war austerity.
The film hears from others who took part, including a 12-year-old choirboy who found himself singing solo when when his colleagues - overwhelmed by the occasion - lost their voices.
The documentary also tells the story of the Crown Jewels that are associated with the ceremony, including the orb, sceptres, sword, spurs and ring.
The BBC's director of content, Charlotte Moore, said: "It is a real honour to have Her Majesty the Queen revealing her intimate knowledge of the Crown Jewels - and fond childhood memories from when her father was crowned King George VI in this very special film for BBC One.
"In her own words, the Queen will bring to life the enduring symbolic importance of the coronation ceremonies for modern audiences to enjoy."
The main elements of the occasion have remained largely unchanged for a millennium.
The coronation is performed by the Archbishop of Canterbury. The monarch is anointed with holy oil, invested with regalia, and crowned with the St Edward's Crown - made of gold and decorated with precious and semi-precious stones.
The best-known item, the Imperial State Crown, is worn at the end of the coronation service and at the State Opening of Parliament.
The documentary is part of the Royal Collection Season, a partnership between the BBC and Royal Collection Trust, which also features the four-part television series Art, Passion & Power: The Story Of The Royal Collection.
The Coronation will be screened on BBC One on 14 January at 8pm.