Burgers to baths: Bedtime rituals of the rich and famous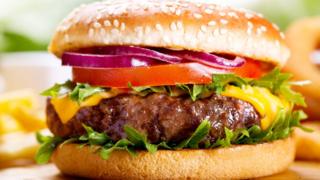 A controversial book on the US president's life in the White House has alleged that Donald Trump would, on occasion, retire to bed early where he would eat cheeseburgers and watch three television screens.
The claims are in Michael Wollf's book, which has been dismissed by Mr Trump as "full of lies".
But what else do the powerful and famous get up to before hitting the hay?
Trump's predecessor, Barack Obama, had a slightly more social dinner routine while he was living in the White House.
He would reportedly have dinner with his family at 6.30pm, before spending several more hours alone working with an occasional break for a game of Words With Friends - the Scrabble style app - or to watch sports on ESPN.
It shouldn't come as a surprise that one of the world's most successful footballers has enlisted the help of a coach for his off-the-pitch activities too.
Sleep guru, Nick Littlehales, has reportedly taught Portuguese forward, Cristiano Ronaldo, to turn off his phone, stop watching television or any other screen 90 minutes before going to bed.
And when Ronaldo does hit the sheets, they'll be freshly laundered.
For US actress Reese Witherspoon, there's one very relatable thing that's sure to make her relax.
"I put on sweatpants (and) take off my bra—literally, taking off my bra is the first thing on my mind. I mean, is there any better feeling than taking off your bra the minute you get home?" she told MyDomaine. Quite.
This is shortly followed by a 30-minute bath with a good book.
Supermodel Bella Hadid is no stranger to a Netflix binge before bed, but not without a steam and a face mask too.
Skincare is also a feature of Kim Kardashian West's routine, who likes to unwind by doing some work and answering emails in bed.
She "always" puts her hair up and applies facial oil before going to sleep at about 11pm.
'Grateful list'
The founder of the Huffington Post, now CEO of Thrive Global, Arianna Huffington, takes sleep so seriously that she has quite literally started a revolution, dedicating an entire book to it.
In The Sleep Revolution, she details her 30-minute ritual before bed which includes having a bath, getting into pyjamas, writing down the things she is grateful for and reading physical books that have nothing to do with work.
There's no chance of burgers in bed for Sir Richard Branson, who always likes to "wrap up the evening with a sit-down dinner".
"I can't tell you how many ideas have been dreamed up around the dinner table on Necker Island," the businessman wrote on his blog.
Dinner is followed by a "social media sweep" and then some off-screen time before lights out at 11pm.
Pop star Rita Ora revealed that a lavender-filled pillow, scented candles and rose oil made up her essential sleep kit - especially when on the road.
Meanwhile, Rihanna admitted she binge-watched shows or documentaries before catching just three or four hours sleep a night.
And for singer-songwriter and self-titled "Dream Warrior", FKA Twigs, the outfit is everything.
"I've always loved dressing for bed," she told Vogue. "[Having] a 'look' on even if I'm going to sleep, it makes me feel good."
"I like to burn candles or incense, Frankincense or Myrrh, and have a quiet time to reflect on my day."