Republicans urge investigation into Trump dossier author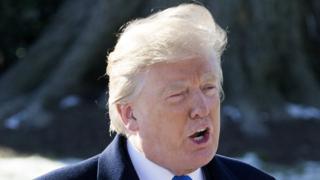 Two senior US senators have called for an investigation into an ex-MI6 officer over a dossier he wrote about President Trump's alleged Russian links.
During a senate judiciary committee, the Republicans found that Christopher Steele had passed details from the dossier to "multiple US news outlets".
This could mean Mr Steele made "false statements" when being interviewed by the FBI.
They have now given the communications to the US Department of Justice.
The dossier claimed Mr Trump had colluded with Russian officials during his election campaign.
It also alleged that Kremlin spies filmed the now-President with prostitutes at Moscow's Ritz-Carlton hotel in 2013.
A number of official investigations, including one led by Special Counsel Robert Mueller, are looking into the allegations - denied by both Moscow and Mr Trump.
Chuck Grassley, who chairs the committee, said the decision to refer the case for criminal investigation had not been taken lightly, but he felt he needed to hand it on for "appropriate review".
He added: "After reviewing how Mr Steele conducted himself in distributing information contained in the dossier and how many stop signs the DoJ ignored in its use of the dossier, I believe that a special counsel needs to review this matter.
"The rule of law depends on the government and all who work on its behalf playing by the rules themselves. I hope the Department of Justice will carefully review our letter and take appropriate action."
In a joint statement from Mr Grassley and his colleague, Lindsey Graham, who chairs a number of senate subcommittees, the senators said they were not alleging Mr Steele had committed any crime. Rather. they had passed on the information for "further investigation only".
The Steele dossier - which became public in January 2017 - was drawn together after an investigation funded by Republicans trying to block Mr Trump from becoming the party's presidential candidate.
Democrats then took over funding the investigation after he was nominated.
Mr Steele - who founded and runs Orbis Business Intelligence in London - is said to have passed on his findings to both US and UK intelligence in the run-up to the 2016 presidential election.
He briefly went into hiding after he was revealed as its author, but subsequently returned to work.
The UK law firm representing Mr Steele declined to comment.