Barry Bennell trial: Boys had 'untold rule not to report abuse'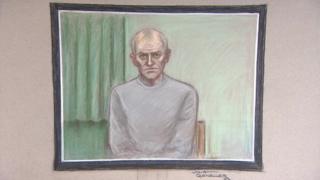 A man who says ex-coach Barry Bennell abused him as a boy has told a court he never reported it because he did not want to "spoil" his dream of becoming a professional footballer.
Giving evidence at Liverpool Crown Court, the man said he was scouted by Mr Bennell, now known as Richard Jones, and abused at his home and at Butlins.
There was an "untold rule" between boys not to report abuse, he told the jury.
Mr Bennell, 64, denies 48 sex offence charges involving 11 boys.
The witness said that as a young, aspiring footballer he had been spotted by former Crewe Alexandra coach and youth scout Mr Bennell.
He said he had believed that Mr Bennell could help him realise his dream of playing football professionally for Manchester City.
"Every boy dreamed of being a footballer so everybody wanted to please him," he added.
Bunk beds
The witness said he and other boys were invited to stay at Mr Bennell's home - above a video shop he owned - where the alleged abuse began.
Inside he said there were two sets of bunk beds and a double bed, which Mr Bennell would share with two boys.
The jury heard how Mr Bennell would allegedly turn the lights off and play loud music - including songs by Billy Joel and the Steve Miller Band - before abusing the boys.
The witness also described being abused on a football tour at Butlins in Pwllheli, after he woke up to find Mr Bennell behind him.
He said none of the boys spoke out about what was happening: "It was almost like an untold rule, like 'shut up'.
"We didn't want to spoil our chances: 'I want to make it, I want to be a footballer, I want to play for City'," he told the court.
'Hold over us'
He added: "You knew but you didn't say anything. He had a big power hold over us with that, which was pretty horrific."
The man described being abused "tens of tens, if not 100" times by Mr Bennell, over a period of about three years.
He said Mr Bennell's interest in him eventually "fizzled out", adding: "As soon as you started turning up with pubic hair you were past your sell-by date and you were gone."
The man said he did not tell anyone about the abuse until November 2016, when he saw other alleged victims on the BBC's Victoria Derbyshire programme.
Mr Bennell is on trial for 35 counts of indecent assault, 11 serious sexual assaults and two counts of attempted sexual assault, on boys aged between eight and 14.
Before the trial, he admitted seven charges of indecent assault committed between 1981 and 1991, relating to three boys aged between 11 and 14.
The trial continues.