Call to ban sale of high energy drinks to under-16s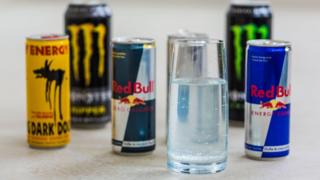 Theresa May has been asked to consider a UK-wide ban on the sale of high energy drinks to under-16s.
Conservative MP Maria Caulfield said a constituent's daily intake of 15 energy drinks may have contributed to his suicide.
The British Soft Drinks Association said the drinks and their ingredients had been "deemed safe" by regulators and were not marketed to under-16s.
Last week, Waitrose pledged age checks on those buying high-caffeine drinks.
The supermarket said that for drinks containing more than 150mg of caffeine per litre, people would be asked to prove their age from 5 March.
In the first prime minister's questions since Christmas, Tory vice-chairwoman Ms Caulfield told MPs her constituent "was just 25 when he committed suicide late last year".
She added: "His family are convinced that his intake of high energy drinks - over 15 cans a day - increased his anxiety and contributed to his death."
Theresa May paid tribute to those involved in the "tragic case" and passed on the "thoughts and sympathies" of the House of Commons.
Responding to the question, she said she recognised the concerns and that a soft drinks levy had been introduced.
From April 2018, companies that produce sugar-sweetened drinks will have to pay the tax in an effort to tackle the nation's obesity problem.
Mrs May said: "We know that energy drinks high in sugar can be damaging to children's health.
"We're supporting schools and parents to make healthier choices and to be able to identify those through clearer labelling [and] through campaigns."
She added it was an issue for the newly-named Department of Health and Social Care and would continue to be looked at.
The British Soft Drinks Association, which represents the industry, said it had had a voluntary code of practice since 2010 to help customers make "informed choices".
It added: "Energy drinks are not marketed or promoted to under-16s and all beverages carry an advisory note stating: Not recommended to children.
"Energy drink manufacturers have taken all possible steps to be clear about the suitability of energy drinks. Retailers, schools and parents all have a role to play in educating children about caffeine and sugar consumption from all sources."