RAF intercepts Russian bombers near UK 'area of interest'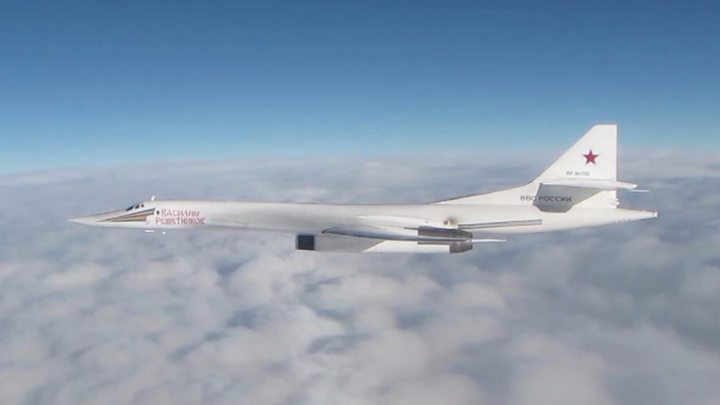 Two Russian Blackjack bombers were intercepted by the RAF over the North Sea as they were approaching a UK "area of interest", the RAF has confirmed.
Two RAF Typhoon fighter jets were scrambled from RAF Lossiemouth in Scotland on Monday morning.
An RAF spokesman said a "variety of friendly nation fighters" initially monitored the Russian aircraft, before the RAF moved to intercept them.
The Russian aircraft did not enter sovereign UK airspace, he said.
Defence Secretary Gavin Williamson said the threats facing the UK were "intensifying".
He said: "We will not hesitate in defending our skies from acts of aggression."
He said the RAF tracked the Russian aircraft "every step of the way" and would continue to police UK and international airspace.
Two Belgian F-16s were also scrambled in the same incident, Belgian media reported.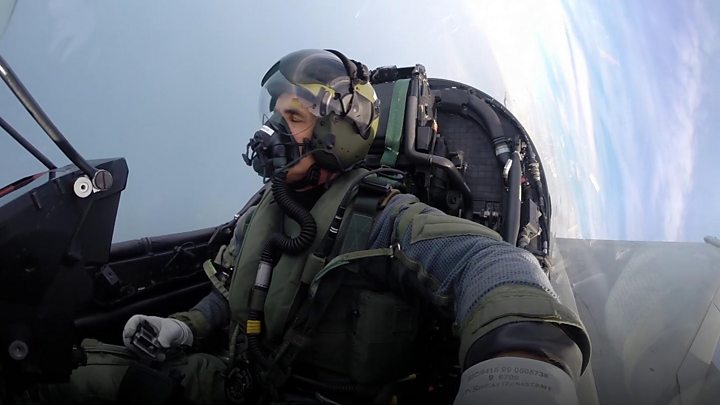 The RAF spokesman said: "We can confirm that Quick Reaction Alert Typhoon aircraft from RAF Lossiemouth scrambled to monitor two Blackjack bombers approaching the UK area of interest.
"The Russian aircraft were initially monitored by a variety of friendly nation fighters and subsequently intercepted by the RAF in the North Sea. At no point did the Russian aircraft enter sovereign UK airspace."
It comes at a time of heightened tension between the West and Russia, and it is not unusual for Russian bombers to probe the airspace of Nato countries.
Last September, two RAF fighter jets were sent to head off Russian military planes on course for Scotland.
And in May, two Typhoons were scrambled from Lossiemouth after two Russian planes entered UK airspace.
The RAF also sent aircraft to monitor two Russian Tupolev Tu-160 Blackjack bombers, which passed near UK airspace in February.
The RAF is on standby to intercept any unidentified military or civilian aircraft around UK airspace.