Liverpool jail's severely ill inmates at substantial risk, says psychiatrist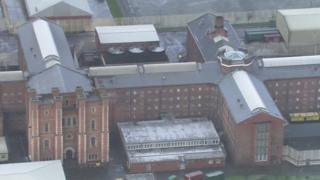 Severely ill inmates at Liverpool prison often wait days to be seen due to poor mental healthcare and a lack of staff, a senior psychiatrist has said.
In a letter seen by BBC News, Dr Andrew Forrester, a consultant at Lancashire Care, told the trust the shortfall was causing a "substantial clinical risk".
Separately, a review of the prison published on Friday said conditions were the worst inspectors had seen.
HM Prison and Probation Service said there had been "a failure on our part."
Lancashire Care, which runs healthcare at the prison, said it had spent significant sums on staffing.
However, in a statement the trust added that it had found it impossible to recruit enough staff.
Safety 'compromised'
In his analysis of healthcare at the prison, carried out for Lancashire Care, Dr Forrester said there was a "gross under-supply of psychiatry".
While highlighting the shortage of staff, the consultant in forensic psychiatry said: "There are major deficits in the areas of clinical psychology, social work and occupational therapy."
The lack of a system to properly process patients meant that "acutely mentally ill patients who are admitted to the inpatient unit often wait for many days to be seen, potentially compromising their safety", he added.
Details of his analysis - dated 20 December and released to the BBC under Freedom of Information rules - come to light two months after the BBC reported patients at the prison were dying because of healthcare errors.
Since 2011, there have been 17 suicides at Liverpool prison, including three in 2017 - one of the highest totals for England according to the Howard League for Penal Reform.
Dr Forrester, who has given evidence to Parliamentary committees on mental health provision in prisons, concluded that while he had worked in many "difficult" prisons, including Belmarsh and Wandsworth in London, "the arrangements I have encountered at HMP Liverpool and their apparent resistance to remediation, are more concerning than in any other place where I have ever worked".
His assessment was written weeks after inspectors from HM Inspectorate of Prisons visited the crumbling Victorian prison.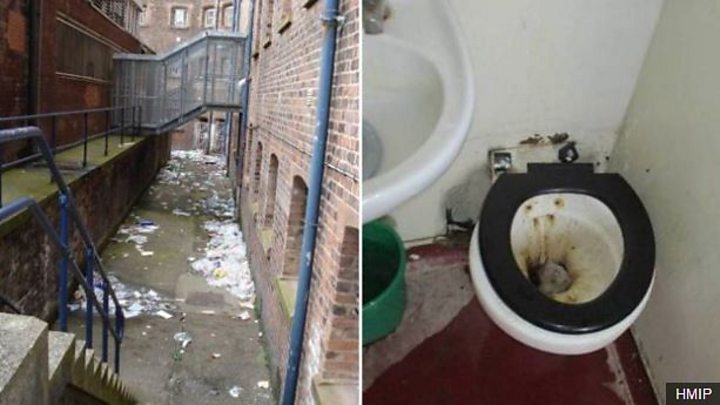 In their review, which is published on Friday, but which was leaked to the BBC last month, inspectors found the jail, which houses around 1,100 inmates, was infested with rats and cockroaches.
The prison authorities, and the broader prison service, are severely criticised in their review for allowing "squalid" conditions to develop at the prison.
Grime and infection risk
Dr Forrester's analysis is contained in a tranche of documents seen by the BBC.
Other details from the papers demonstrate a fractured and dysfunctional relationship between Lancashire Care and the prison leadership, including:
In July, a medic urged the trust to close the healthcare unit because of the refusal of the prison to provide officers to protect healthcare staff during medication rounds.
In lieu of staff, the prison suggested nurses wear body cameras, a recommendation rejected by the trust.
Healthcare staff were regularly overruled by prison authorities on which men were placed in the inpatient unit, with some sent there despite having no healthcare needs. This meant the unit was often unable to take prisoners who genuinely needed to be there.
Maintenance problems with the contractor, Amey, meant the healthcare unit was regularly described as posing an infection risk, because of broken sinks, damaged cells and deeply embedded grime.
Lancashire Care is leaving its contract when it expires in March and the BBC understands no other healthcare provider has bid to replace it.
In its statement, Lancashire Care said: "Whilst the level of psychiatry input in Liverpool prison is below the Royal College requirements, it is comparable to their prisons in the north-west [of England].
"However, the experience of some clinicians would suggest that compared to the south, it is low."
On its difficulty staffing the unit, the trust said it "had exhausted all available options to mitigate this".
"Lancashire Care has been proactive in trying to recruit staff to the prison and has spent an additional significant amount of money on agency staff; this is not clinically or financially sustainable."
Speaking on the Today programme, the head of HM Prison and Probation Service, Michael Spurr, said the system had been under pressure, but acknowledged that the service "should have acted much earlier".
He added: "I absolutely accept that that was a failure on our part, but it is in the context of a system that has been under a lot of pressure for a number of years."
The Ministry of Justice said HMP Liverpool had hired a "significant" number of new officers and that the prison was "now fully staffed".
A Ministry spokesman added that a joint health and social care improvement board was set up in November to oversee the healthcare action plan for the jail and is "urgently looking at how to improve the running of healthcare services".