Government introduces new product safety office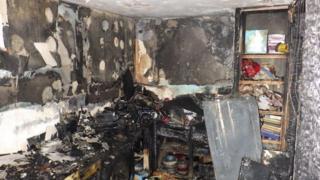 The government is creating a new Office for Product Safety and Standards to help manage large-scale product recalls and identify risks to consumers.
It comes after several fires, including Grenfell Tower, linked to faulty fridge freezers and tumble dryers.
The Commons' Business Committee said last week there was a "strong case" for a national product safety authority.
Consumer group Which? welcomed the move but said it "falls short of the full overhaul" required.
It emerged last week that more than one million fire-risk tumble dryers are still in use more than two years after a defect was discovered.
The defect in tumble dryers sold under the Hotpoint, Creda and Indesit brands was discovered in 2015 and led to at least 750 fires since 2004, according to the Business, Energy and Industrial Strategy (BEIS) Committee.
Business minister Andrew Griffiths said the new office "will allow consumers to continue to buy, secure in the knowledge there is an effective system in place if products need to be repaired or replaced."
The new product safety office will start work immediately.
The move is a part of the government's response to recommendations from the Working Group on Product Recalls and Safety, a group of consumer. fire and product safety experts.
The group, established in 2016, presented the government with recommendations which built on an independent review by former BBC presenter and consumer rights campaigner Lynn Faulds Wood.
Chairman Neil Gibbins said: "I'm pleased to see the government respond to our recommendations with concrete steps to ensure safety of consumers, now and in the future."
But Alex Neil of Which? said: "This action falls short of the full overhaul it so desperately needs.
"Consumers need an independent national body, which has real powers to protect them and get dangerous products out of their homes. Failure to do so continues the risk of further tragic consequences."