Finsbury Park: Man 'wanted to kill Muslims in van attack'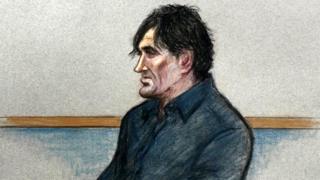 A man accused of driving a van into a crowd of people near a London mosque wanted to kill as many Muslims as he could, Woolwich Crown Court has heard.
Darren Osborne, 48, is accused of ploughing into a crowd of worshippers in Finsbury Park, killing Makram Ali, 51, and injuring nine others last year.
The court heard he became "obsessed" with Muslims and the Rochdale grooming scandal after watching a BBC TV drama.
Mr Osborne, from Cardiff, denies charges of murder and attempted murder.
Opening the trial, prosecutor Jonathan Rees QC said Mr Osborne had driven a Luton box van from Cardiff to London on 18 June.
He then deliberately targeted crowds in Finsbury Park at about 00:15 BST on 19 June, he added.
The area was busy with worshippers attending Ramadan prayers at the time, Mr Rees told the court.
Mr Osborne was seeking "to kill someone merely because of their religion," he added.
'Obsessed' with Muslims
Mr Osborne's partner, Sarah Andrews, said he had become "obsessed" with Muslims in the weeks leading up to the incident, having watched the BBC drama Three Girls about the Rochdale grooming scandal.
"He seemed brainwashed and totally obsessed with the subject," she said in a statement, read out in court.
Ms Andrews - who had been in a relationship with Mr Osborne for about 20 years and had four children with him - said he became a "ticking time-bomb" before the alleged attack, Mr Rees added.
She described Mr Osborne as a "loner and a functioning alcoholic" with an "unpredictable temperament", he said.
During the weekend prior to the attack, the defendant was heard "preaching racial hatred" in a pub, Mr Rees said.
He allegedly told a soldier in the pub: "I'm going to kill all the Muslims, Muslims are all terrorists. Your families are all going to be Muslim. I'm going to take it into my own hands."
Devices seized from Mr Osborne's home showed internet searches for Britain First and the English Defence League, the court heard.
Police also found a video - believed to be fake - showing Muslims celebrating following the Paris terror attack.
Ms Andrews told police Mr Osborne had been reading posts by former EDL leader Tommy Robinson on Twitter.
Note in van
A handwritten note, found in the van used in the attack, complained about terrorists on the streets and the Rotherham child exploitation scandal, Mr Rees told the jury.
The note allegedly referred to Muslim people as "feral" and called Muslim men "rapists" who were "preying on our children", the jury heard.
One part read: "Don't people get it, this is happening up and down our Green and pleasant land.
"Ferrel [feral] inbred raping muslim men hunting in packs preying on our children, this will be coming to a town near you soon, it most probably has, get back to the desert, you raping inbred bastards & climb back on ya camels."
The note ended: "Well Folkes gotta go busy day today. Remember peaceful vigils only & please dont look back in anger, God Save the Queen."
It also branded Labour leader Jeremy Corbyn a "terrorist sympathiser" and attacked London Mayor Sadiq Khan and singer Lily Allen, the prosecutor added.
Mr Rees said: "The underlying theme seems to be that the defendant felt that insufficient was being said or done to counter terrorism and the grooming gangs comprising predominantly Muslim males.
"Against that background, the defendant decided to take matters into his own hands."
Prosecutors believe Mr Osborne had been planning to target an Al Quds Day march in London, organised by the Islamic Human Rights Commission, on 18 June.
Mr Osborne is believed to have asked a black cab driver for directions to Grosvenor Square, the destination of the marchers, the court heard.
Mr Rees added: "We are not able to say quite how close the defendant came to the marchers or Grosvenor Square, although it seems likely the defendant was prevented from carrying out an attack because of the road closures that were put in place."
Instead, he said Mr Osborne travelled to Forest Hill, south London, at around 20:00, and asked a man where the nearest mosque was.
He was told there was none in the area and travelled north, stopping to ask a motorist the directions to Finsbury Park.
The driver allowed the defendant to follow him and he arrived in the Finsbury Park area at just before 23:30, Mr Rees added.
'Definitely alive'
Mr Rees told the court the alleged attack was "particularly horrific" because the group had gathered in the street to help Mr Ali, who had collapsed minutes earlier.
Several of those who went to help Mr Ali said he was "definitely alive" and conscious in the moments before being struck.
Mr Osborne planned to make "a public statement by killing Muslims", knowing that his handwritten note would be recovered, Mr Rees added.
Although Mr Osborne was not charged with a terrorist offence, Mr Rees said "the note and the comments he made after his detention establish that this act of extreme violence was, indeed, an act of terrorism".
The trial continues.