Finsbury Park: Jury sees CCTV of attack suspect 'hiring van'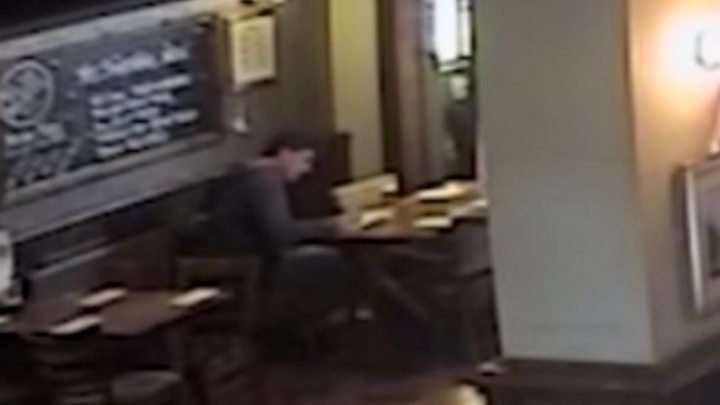 The jury in the trial of a man accused of driving a van into a crowd of people near a London mosque has been shown CCTV images of him hiring a vehicle.
Woolwich Crown Court was shown footage of Darren Osborne, 48, allegedly hiring the van in Cardiff and then writing a letter saying Muslims were "rapists".
Prosecutors say CCTV from a pub shows him writing the letter found in the van after the alleged attack, last June.
Mr Osborne, from Cardiff, denies murder and attempted murder.
He is accused of hitting worshippers in Finsbury Park at about 00:15 BST on 19 June 2017, killing 51-year-old Makram Ali and injuring nine others.
Pub footage
Jurors were played a series of CCTV videos, including one of Mr Ali collapsing moments before a van drove into a crowd people treating him.
They were also shown a video of Mr Osborne hiring a large Luton box van in Cardiff on 17 June, as well as around 10 minutes of footage from inside the Hollybush Pub in Pentwyn, Cardiff.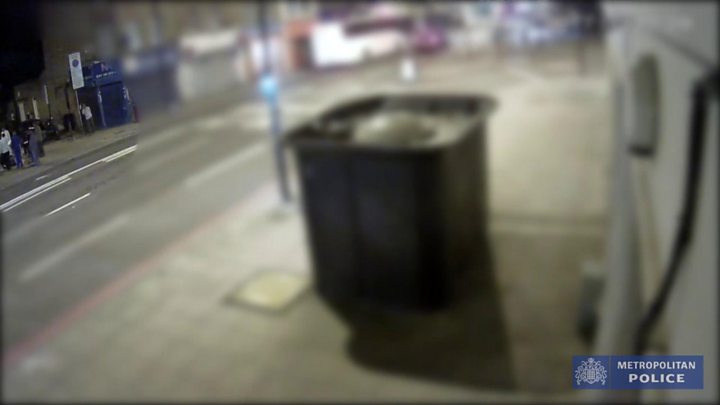 Jurors were told the footage - from two days before the attack - showed a bartender at the pub hand Mr Osborne an object and his change as he purchased a drink.
He was then seen writing on paper at a table, the jury heard.
Prosecutors say Mr Osborne was writing a note - complaining about terrorists on the streets and the Rotherham child exploitation scandal - found in the van used in the alleged attack.
The letter referred to Muslim people as "feral" and said Muslim men were "preying on our children", the jury was told.
Soldier Callum Spence, who had been in the pub in Pentwyn, said he heard Mr Osborne talking aggressively about Muslims.
Mr Spence told the court: "He was pretty mumbling, but I heard him saying: 'All our families are going to be Muslim. They are all going to be terrorists.' Things like that."
He told the court: "He just wasn't really all there. He wasn't looking at me. I tried to make eye contact with him but that did not work."
He said he told Mr Osborne to leave and when he helped to escort him out of the premises, the defendant said: "I'm going to take it into my own hands".
In a statement read to the jury, the pub's assistant manager, Angelo Lamberti, said he had heard Mr Osborne "tell the soldier that he was also a soldier.
"The soldier asked him what regiment he was in, to which he replied, 'you will find out tomorrow'."
He added: "When he said to the soldier you will find out tomorrow, I wish I had called the police."
Twitter message
Earlier the jury heard Mr Osborne had contact with far-right groups before the alleged attack.
Prosecutors said Mr Osborne received a Twitter message from Britain First deputy leader Jayda Fransen.
They said he also had an email from an English Defence League-linked account.
Prosecutor Jonathan Rees QC outlined Mr Osborne's activity on the internet before the alleged attack.
He said the defendant made several searches on the internet for Britain First leader Paul Golding, his deputy Ms Fransen, and Tommy Robinson, one of the EDL's founders, after the London Bridge attack on 3 June.
Mr Osborne later received an invitation to a demonstration from an account using the name Tommy Robinson calling for participants to "stand up and say no more" to extremism.
Mr Rees said: "No-one is suggesting it's him [Mr Robinson] in person but obviously people who follow Tommy Robinson."
The invitation referred to the bombing by Salman Abedi at the Manchester Arena in May, saying the incident was "not the beginning and it won't be the end", the court heard.
March 'target'
Opening the trial on Monday, Mr Rees said Mr Osborne had become "obsessed" with Muslims and the Rochdale grooming scandal after watching a BBC TV drama.
He said it was believed Mr Osborne had been planning to target a march in central London, organised by the Islamic Human Rights Commission, on 18 June but was prevented by road closures that were put in place.
The trial was adjourned until Wednesday.