Finsbury Park accused 'blew kiss at crowd'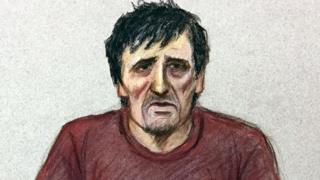 A man accused of driving a van into people near a London mosque blew a kiss and smiled as he was put in a police vehicle after the alleged attack, a court has heard.
A witness told the jury he would never forget the driver's "constant smiling".
Darren Osborne, 48, is accused of ploughing into worshippers in Finsbury Park in June last year, killing Makram Ali, 51, and injuring nine others.
Mr Osborne, from Cardiff, denies murder and attempted murder.
The court has already heard that the area was busy with worshippers attending Ramadan prayers at the time, and witnesses - including those who helped to apprehend the man - have been describing how events unfolded.
In a statement, one bystander, Susan Can, told Woolwich Crown Court he was detained by police and put in the back of their van in front of a "very angry" crowd.
"As he was sat in there, I saw him blow a kiss at the crowd. This made them angrier still," she said.
Another witness, Adnan Mohamud, said he recalled the driver lying on the floor with a smile on his face, saying: "I have done my job, you can kill me now."
"Something I will never forget was that he was constantly smiling," Mr Mohamud added.
"I knew at this point that what he did was not an accident - it was definitely deliberate."
'Distressed 999 call'
Jurors earlier heard how a crowd had gathered around Makram Ali after he collapsed at the roadside before the alleged attack.
Mr Mohamud called 999 for an ambulance, and in a recording played to the jury, he is heard speaking to the operator before a loud noise and shouts of distress.
The operator can be heard saying "hello" 24 times before a male voice comes back on the line to say "someone's just come with a big van and run over a load of people."
Ibrahim Benaounda had been tending to Mr Ali when he was struck, the jury heard.
"It felt like being on a rollercoaster, and spinning round and round. I could feel everything. I could feel my bones breaking," he told the court in his statement.
Another witness, Hamdi Alfaiq, 38, who walked into the courtroom on crutches, had been offering Mr Ali a sip of water before he was hit and woke from consciousness under the van, the court heard.
He told the jury: "They pulled me out but I don't remember anything from when I was underneath."
'Trying to grab him'
Another witness, Mohamoud Geedi, 28, told the court he was knocked over by the van's wing mirror, but got up and launched himself at the driver.
Mr Geedi said he had seen a white van speeding up and heard the noise of gears changing as it turned into Whadcoat Street, shortly after midnight on 19 June last year.
"I see the big white van, I can see the headlights. I can hear a rev," he said.
"I could see there was one driver that was in the vehicle. It was going towards us."
Another eyewitness, Mahad Mohamed Ismail, said in a statement it seemed as if the driver's foot was "flat" on the pedal as the vehicle moved towards the crowd.
Describing the scene after the van struck the crowd, Mr Geedi said: "I looked at a lot of people just splattered all over the place."
He told jurors the van only stopped when it hit some bollards, and the driver ran towards the crowd "with his head down, punching, lots of people were trying to grab him".
He and others wrestled the driver to the ground, and tried to punch and kick him until a local imam intervened, saying: "It's not worth it," Mr Geedi said.
'He was immobilised'
The imam, Mohammed Mahmoud, told the court the driver was facing punches "from almost every direction".
He said he urged people not to touch the man after he had been stopped from fleeing the scene.
Mr Mahmoud added: "He posed no harm to anybody. He was immobilised.
"He wasn't a threat and therefore he should answer for his crime in a court such as this, which he is doing now, and not in a court in the streets."
The jury was also shown footage of the driver swearing and laughing after his arrest outside Islington police station.
In the video from a police body-worn camera, the man is heard making comments about the Rotherham grooming scandal, Sadiq Khan, Grenfell Tower, the Iraq war.