Prince William wins bandy hockey shootout in Sweden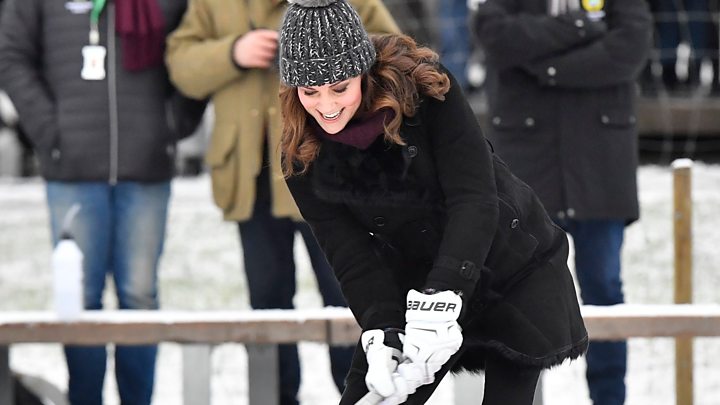 The Duke and Duchess of Cambridge have gone head-to-head in a penalty shootout while learning about bandy hockey in Sweden's capital Stockholm.
The duke scored two goals to the duchess's one after watching the 11-player game, played on a rink similar in size to a football pitch.
They then went to the country's royal palace for a lunch hosted by the king, Carl XVI Gustaf.
After their two-day visit to Sweden, they will travel to Norway.
Anna Widing, an international bandy player, coached the couple before the shootout.
The 29-year-old said: "I could see that maybe they like to beat each other."
She said the duke had a strong shot and said she was impressed with the duchess.
Ms Widing added: "It was a privilege for us to show our sport to them."
Prince William and Catherine began their day with a hot drink from a flask carried in a case known as a bandy portfolj (bandy briefcase).
The duchess, who is expecting the couple's third child, drank an alcohol-free version of the drink called glogg, which is usually mulled wine or coffee with alcohol.
At the king's lunch, the couple met the king and queen of Sweden and 15 other members of the royal court, including Crown Princess Victoria and her husband Prince Daniel.
The princess and prince then joined the pair on a walk to Stockholm's oldest public square, Stortorget.
After meeting members of the public on what is their first official visit to the Scandinavian country, the duke and duchess were then taken into the Nobel Museum for a tour.
They were given a gift by local Karin Wahlgren - a special glove for the couple to use to wipe their dog Lupo's paws when they got muddy.
The duke and duchess also spoke to maths teacher Niklas Schild, who told Prince William that he was planning to travel to Windsor for Prince Harry's wedding in May.
He said: "William told me 'you'll be very welcome - it will be a very happy day'."
What is bandy hockey?
The game originated in Cambridgeshire and dates back to 1813.
It is played outdoors on a sheet of ice the size of a football pitch - larger than an ice hockey rink - and with a ball not a puck.
Like football, the game is played over 90 minutes. Under extraordinary circumstances such as heavy snowfall, the referee can choose to divide the match time in more than two parts.
There are two teams, each consisting of 11 players. The full rules from the Federation of International Bandy are available online.
It has become one of the most popular winter sports in Scandinavia, eastern Europe and the US.
Sweden's women's team won this year's World Bandy Championships. The men's tournament finishes on 5 February.
The couple then moved on to celebrate design at the launch of the UK-Sweden housing design exchange at the Swedish Centre for Architecture and Design or ArkDes.
Ikea, whose founder died earlier this week, was one of the companies represented at the event.
The duke and duchess then revealed that they owned items of the firm's flatpack furniture, which were in Prince George and Princess Charlotte's rooms.
Ikea's head of design Marcus Engman said: "I'm proud that we can suit everybody."
The final event of the day was a black tie dinner at the residence of the British Ambassador.
The couple met Swedish Prime Minister Stefan Löfven and his wife Ulla, with other guests expected to include Pirates Of The Caribbean and Thor actor Stellan Skarsgard and Ex Machina actress Alicia Vikander.
Prince William and Catherine will also meet academics on their trip to hear about how Sweden deals with mental health issues.
Despite being pregnant with her third child and her previous bout of morning sickness, the duchess is expected to take part in all events during this tour.
Her condition meant she had to pull out of a number of engagements last year.
Jason Knauf, the Cambridges' communications secretary, said: "The duke and duchess have asked, as with previous overseas visits, that this tour allow them opportunities to meet as many Swedes and Norwegians as possible.
"Their royal highnesses will meet a wide variety of people, including children and young people, those working in the mental health sector, and leaders in business, academia and scientific research, government, civil society and the creative industries."