Mastermind limits use of Harry Potter and Fawlty Towers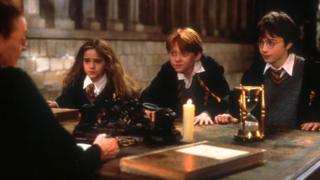 Hundreds of Mastermind applicants are being asked to change their specialist topics because too many people are choosing the same subject.
Mastermind received 262 applications to answer questions about the Harry Potter series last year.
It is the most popular topic, alongside Fawlty Towers, Blackadder and Father Ted.
But only one contestant can tackle a subject during each series.
Other subjects, such as 'pork', have been ruled out because of a lack of possible questions, said Mark Helsby, who has produced more than five series of the shows.
Last year, 32 people wanted to answer questions on Fawlty Towers. Blackadder was chosen by 19 people, and Father Ted by 22.
Mr Helsby told the Radio Times: "Some subjects are very broad and need to be tightened up; or they might be too tight and need to be opened out to make them a fair contest compared to the other people they're competing against."
He added that the show's makers try not to dismiss topics out of hand.
"One applicant wanted to do 'meat' and narrowed it down to 'pork'. Unfortunately, we still said no.
"I'd rather work with the contender to find some common ground between what they are interested in and what we think we can write enough questions about."
Other subjects that have been rejected from the quiz show, hosted by John Humphrys, include the Chronicles of Narnia series and Roald Dahl books.